Did Apple and Google Poach Facebook's Mojo Today?
In its first full day of trading on the Nasdaq, shares of Facebook (NASDAQ:FB) are did fairing any better on Monday than they did on Friday. Just before the weekend, the social media giant began trading, but the debut was plagued by problems. In fact, the Nasdaq announced it is changing its initial public offering procedures due to the debacle. As a result of the underwhelming Facebook performance, investors are fleeing back to time-tested technology companies.
After pricing its IPO at $38 per share, Facebook shares opened at $42.05 on the Nasdaq. In the first 30 seconds of trading, an astounding 82 million Facebook shares were traded. However, by the end of Friday, Facebook only closed 23 cents higher than its IPO price. More than 570 million shares of the company were traded in the first day. The poor performance even carried over to Zynga Inc. (NASDAQ:ZNGA), which closed 13 percent lower. There were many excuses made as to why Facebook did not receive the usual IPO pop, but none held weight as Facebook began trading on Monday.
Don't Miss: Will Google Cave to EU's Ultimatum?
Today, Facebook added an event to its stock timeline that it would rather forget. Facebook shares closed 10.99 percent lower Monday, falling below its IPO price of $38 only one day after its debut. Facebook hit as low as $33 per share before finding support. In a previous article, we noted how Facebook conversation was denominating StockTwits, which is a real-time, free social network for investors and traders. Facebook is still the topic of conversation today, but as the trending ticker heatmap below shows, it is a massive sea of red for the 900-million users company.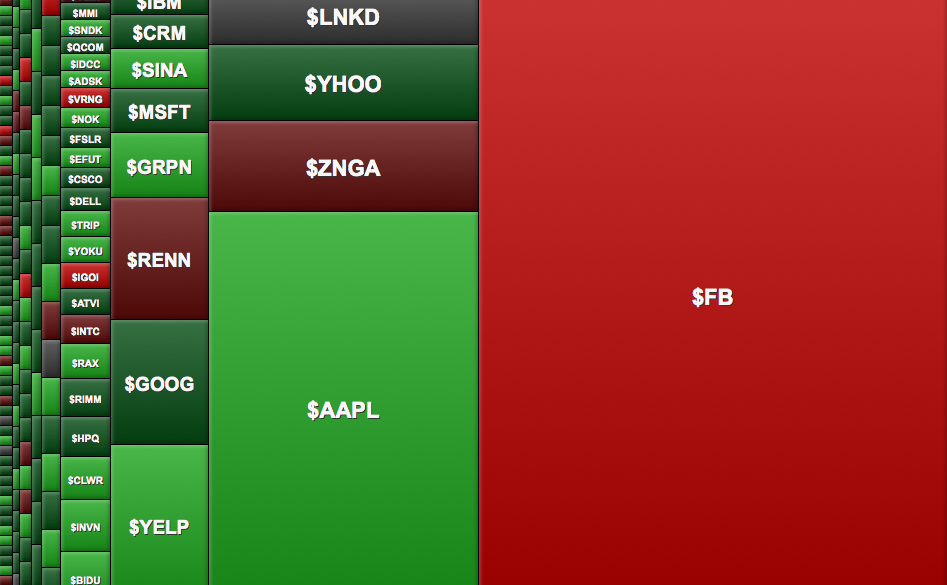 Other social-media names such as LinkedIn Corp. (NYSE:LNKD) and Zynga Inc. also traded lower early Monday as investors came to their senses about the sector. Meanwhile, Apple Inc. (NASDAQ:AAPL) and Google Inc. (NASDAQ:GOOG) shares jumped 5.83 percent and 2.28 percent, respectively. Shortly prior to the Facebook IPO, Apple had experienced weakness and some even called the tech-giant an ATM for institutions looking to raise money in order to purchase Facebook shares. However, Apple is quickly regaining its throne as the topic of discussion as an analyst note reminded the market that the iGadget company produces real products that consumers crave.
Gene Munster, an analyst from Piper Jaffray, explained in a client note that Apple is still on track for an October launch of the iPhone 5, despite prior inventory concerns. He said, "We believe there is an 80 percent chance Apple will be able to meet our 49 million estimate given the constrained supply. We expect Apple is likely to get favorable treatment in terms of access to 28 nm inventory. Net-net, the worst case scenario is that Apple is unable to meet demand in the short term following iPhone 5 launch and units would shift from the December quarter into the March quarter as we don't believe consumers would simply purchase another phone in most cases if they wanted the iPhone 5 and it was not available."
Investor Insight: Did Facebook and Mobile Gaming Kill GameStop?