Is Apple Stock Showing a Bearish Pattern?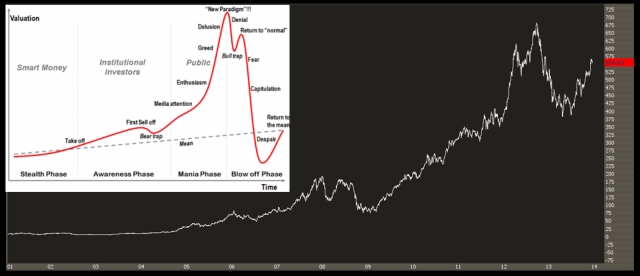 Is Apple (NASDAQ:AAPL) stock exhibiting a bearish pattern? A trader who goes by the StockTwits username of RyKnow recently posted a chart of what he believes is a bearish pattern in Apple stock, MarketWatch reports.  "An unpopular view is that $AAPL is entering/nearing its 'return to normal' stage of its cycle," RyKnow wrote on StockTwits.
RyKnow noted that the bearish pattern can be broken into four broad phases. As seen in RyKnow's chart, above, from approximately 2001 until 2005, Apple stock was in the "Stealth Phase," when "Smart Money" dominated. Apple stock then moved into an "Awareness Phase" from around 2006 until 2009, when the stock attracted "Institutional Investors." Toward the end of 2008, Apple slipped into a "Bear trap," when investors began to sell off the stock.
After January 2009, the stock began to climb and entered what RyKnow called the "Mania Phase," which was dominated by "Public" investors. According to RyKnow, Apple's spectacular climb was fueled by "Media attention" and "Enthusiasm." By 2012, "Enthusiasm" had devolved into "Greed" and "Delusion."
The "Mania Phase" ended at the "New Paradigm" peak, when Apple stock went above $700 in September 2012, before subsequently drifting as low as $385.10. In mid-April, Apple slipped into a so-called "Bull trap" before climbing out to its current "Return to 'normal'" level that it is at now.
Unfortunately, according to RyKnow's bearish pattern chart, the "Return to 'normal'" peak is followed by a precipitous plunge, in which "Fear" and "Capitulation" push the stock below the levels seen in January 2009, when the stock was trading around $90. After this valley of "Despair," the stock should "Return to the mean," which, according to the chart, appears to be around the $100 level.
Although technical formations are always interesting to consider, no amount of analysis can say for sure exactly what a stock will do. In fact, there have been several recent positive indications about Apple's holiday shopping season sales, including strong supply chain checks from Jefferies analyst Peter Misek and Cantor Fitzgerald analyst Brian White, which will likely continue to push the stock price upward.
According to Misek's recent note to investors obtained by Dividend.com, Apple's Taiwanese suppliers saw month-over-month increases of 12 percent and year-over-year increases of 8 percent in November. Similarly, White wrote in a note to investors, "this November will prove to be the strongest in the history of our Apple Barometer," based on his checks of Taiwan-based suppliers. Both of these supply chain checks seem to indicate unusually strong December quarter sales, which make the likelihood of a precipitous decline in Apple's stock value unlikely in the near future.
Follow Nathanael on Twitter @ArnoldEtan_WSCS
Don't Miss: Analyst: Apple's iPhone Will Dominate U.S. Market by 2017.