Analysts: Is Apple the New Microsoft?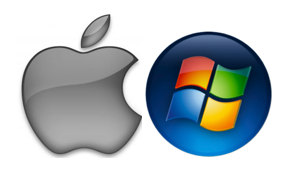 Apple (NASDAQ:AAPL) finished the week at 52-week lows after failing to "wow" Wall Street. Revenue increased 18 percent to $54.51 billion and net income came in $13.07 billion, up from $13.06 billion a year earlier.
Although Apple announced the highest revenues in company history and the fourth most profitable quarter of any company in history, this week's earnings were the first time in several years Apple has not posted a double-digit earnings increase year-over-year.
The prospects of slowed growth are making investors panic and have led to a late week selloff. Moreover, the S&P and Nasdaq are heavily weighted toward Apple, so Apple's future will ultimately impact the strength of the current market rally.
Some insist the latest numbers point to the fact that Apple is now a value stock instead of a growth monster. In short, many analysts are asking whether Apple is headed down Microsoft's (NASDAQ:MSFT) path.
Seabreeze Partners founder Douglas Kass was one such stock watcher making the comparison. "They're both maturing, large cash flow stories," Kass said on CNBC about the two companies. "In the late '80s, early '90s, Microsoft expectations were elevated similar to what Apple was, let's say, in the middle of 2012"…
Like Microsoft, Kass added, Apple will be soon seen a "large cash flow generator with limited secular earnings growth," and predicted that its stock will languish between $425 and $500 for "as long as the eye can see."
Following the earnings report, several analysts also lowered their price targets on Apple and cut their expectations to apparently more reasonable levels. According to Mizuho Securities' Abhey Lamba, the years of Apple blasting past the normal were over. Instead, it was headed to a position of predictable earnings and a steady dividend. "This is a big shift in the company's position from a year ago," Lamba told Bloomberg. "The growth has slowed down much faster than we anticipated."
The problems being faced by Apple include a saturated high-end smartphone market, narrowing profit margins, and manufacturing issues.
According to Kass, Apple is not shying away from signaling this change in trend on its own. The company has announced a new format for sharing its financial outlook, whereby it would offer a range that could be relied upon and not an ultra-conservative number that is largely ignored by investors and analysts. Sanford Bernstein's Toni Sacconaghi agrees with Kass. "I think they [Apple management] were trying to deliberately say 'we mean it this time,'" the analyst told The Wall Street Journal…
The changing trends may not necessarily be a bad thing, Brian Blair from Wedge Partners said in a research note.
"One of the knocks against Apple over the past four months has been that the days of heady growth are over," Blair wrote. "We agree that growth won't be what it used to be, mainly because there is no market opportunity that exists with the volumes of the global handset business and as that growth slows, so slows the company's overall growth. The bottom line is this is a new Apple that has run into the law of large numbers and while growth remains, Apple will now be seen as a new company."
According to Blair, who reiterates his Buy rating on the stock, Apple still offers a compelling opportunity and fleeing investors may simply need time and "a surprise product or two" before agreeing with that assessment.
Don't Miss: Your Cheat Sheet to Apple Earnings.