Is Apple's AirPlay About to Get Even Better?
While some Apple (NASDAQ:AAPL) patents cover novel concepts, others explore new possibilities for existing ideas. A recent patent uncovered by Apple Insider reveals that Apple is exploring new functionalities for its wireless streaming AirPlay software.
The "Application Interaction Via Multiple User Interfaces" outlines a method for Apple's AirPlay to present different user interfaces to different devices running the same application. Although Apple does not specifically name its AirPlay software in the patent, the described application essentially functions as an expanded version of that software.
As explained in the patent abstract, the method describes "techniques for concurrently presenting multiple, distinct user interfaces for a single software application on multiple display devices. Each of the user interfaces can be interactive, such that user input received with respect to any of the user interfaces (presented on any of the display devices) can change the state of the application and/or modify data associated with the application. Further, this state or data change can be reflected in all (or a subset) of the user interfaces."
Although there are already some interactive capabilities within the current iteration of AirPlay, this patent outlines a greater degree of dynamic and fluid interaction between devices. Rather than primarily mirroring one host device, this patent covers a method for multiple devices running the same app to be able to dynamically interact with a shared data set.
If one device implements a change to the shared data set, it would immediately be displayed to each device in the system. Each user interface would be optimized for each specific type of device. Users can also customize different levels of interaction for each device in the system.
Although it is easy to imagine how this application would benefit groups of people working on collaborative projects, this software could also be used to enhance the interaction between other Apple products. For example, this application could enable an iPad to function as a dynamic smart remote for a future Apple television product.
Here's how Apple has traded so far this week.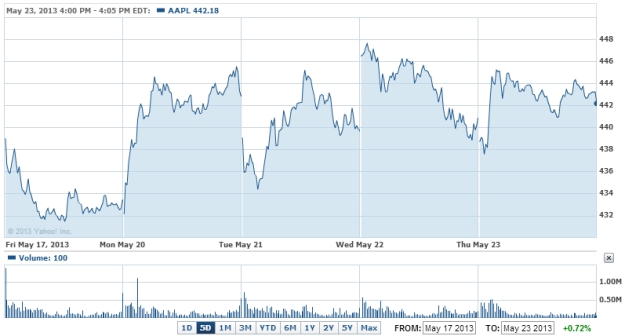 Follow Nathanael on Twitter (@ArnoldEtan_WSCS)
Don't Miss: Apple's Newest Patent Target: Galaxy S4.