Is Apple's iOS 7 Revamp a Misstep?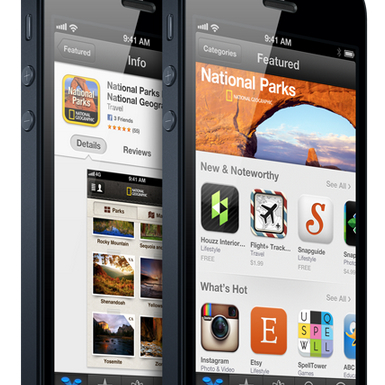 Is Apple (NASDAQ:AAPL) making a strategic misstep by altering the appearance of its next iteration of iOS? The many rumors about Apple's upcoming launch of iOS 7 have indicated that the company is focusing its attention on changing the longtime skeuomorphic design of its operating system to a "flatter," more minimalist appearance. However, is Apple's iOS really in need of a superficial makeover, or does it actually need a fundamental improvement in features?
Jonathan Ive, the Senior Vice President of Industrial Design at Apple, is now also in charge of Apple's human interface design. Ive has been pushing to remove the skeuomorphic design elements that have long been a part of iOS. Daniel Eran Dilger at Apple Insider notes that while removing the "more egregious bits of fluff" is important, the company should also focus its attention on creating exclusive features for the next version of iOS.
Dilger points to several different iOS apps that would benefit from some reengineering attention. He notes that the Contacts app would be vastly improved if it could import data using Apple's Data Detectors technology. This would enable the app to effectively grab data from a document without the user having to manually copy and paste information. This could also be implemented to work with the iPhone's camera so a user could grab contact information from a business card and have the data automatically filed into the Contacts app.
Apple's Notes app could similarly use some additional features. Notes for iOS 7 should have the additional ability to insert videos, photos, doodles, and maps while keeping this data linked to other devices through iCloud. Apple's Messages app could also use some additional functions. Dilger suggests that Apple should increase the integration between SMS, iMessage, FaceTime, Phone voicemails, and Mail to allow a user to group all the different types of messages together that are from one contact.
Finally, Dilger suggests that Apple could even create a new social media app for iOS 7 that would allow users to share videos. This app could conceivably be integrated into the existing Photos app.
The elimination of the superficial skeuomorphic design elements may actually be a wise redesign strategy for Apple's next iteration of iOS. Dilger notes that Microsoft (NASDAQ:MSFT) confused and alienated its user base when it implemented radical software behavior changes in Windows Vista. In this sense, Apple's minor alterations to iOS 7's appearance may be the safest redesign strategy for Apple to follow. However, if the Cupertino-based company coupled this minimalist whitewashing with a number of new features, the next generation of iOS could be the mobile operating system that sets the industry standard for years to come.
Here's how Apple has traded over the past week.
Follow Nathanael on Twitter (@ArnoldEtan_WSCS)
Don't Miss: Is This a Colorful Glimpse of the Low-Cost iPhone?