Is Apple's iOS 7 the Next Big Thing for Enterprise?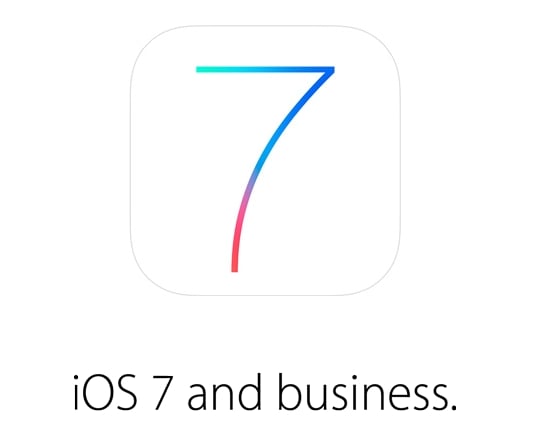 Apple (NASDAQ:AAPL) is promoting several new business-friendly features it has added to its iOS 7 mobile operating system through a new section on its website. The new promotion is part of the company's overall strategy to attract more enterprise users to its platform.
On is website, Apple says, "iOS 7 provides enhanced security, powerful new ways to configure and deploy devices at scale, and features to help businesses purchase, distribute, and manage apps with ease."
A new "Managed open in" feature allows companies to restrict which applications and accounts their employees can use to access work documents and attachments. This allows companies to ensure that work documents are kept securely within company-approved apps and that employees do not open personal documents with corporate apps.
Apple has improved app security by allowing enterprise users to configure their apps to connect automatically to VPN. Enterprise users will also only have to sign onto corporate apps once with the new "single sign on" user credentials. This allows users to access all the company's apps without having to reenter their password multiple times.
In another move to make its products and services more business-friendly, Apple has introduced an App Store volume purchase program that lets businesses assign apps that they purchase to individual users while still allowing the business to retain full ownership of those apps. Apple has also enhanced its mobile device management protocol for iOS 7 and streamlined the process for enrolling devices in the program. Businesses will have new configuration options that allow them to wirelessly set up apps, install custom fonts, and set accessibility options according to corporate preferences.
Apple has also increased its third-party app protection by using what it calls a "strong and unique encryption key." Apple's renewed focus on enterprise should help the company further expand its already significant business-user base. Apple's iOS platform accounted for 75 percent of mobile device activations by enterprise users in the first quarter of 2013, according to Good Technology's latest Mobility Index report.
Here is how Apple traded on Wednesday: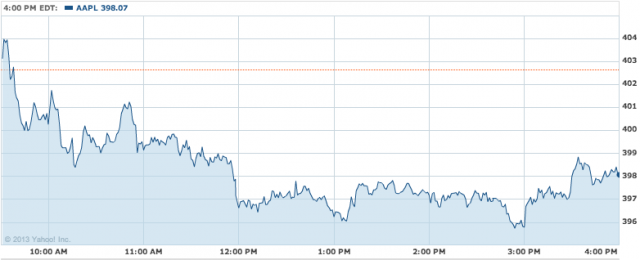 Follow Nathanael on Twitter (@ArnoldEtan_WSCS)