Is Apple's iPhone 5S NSA-Proof?

Apple (NASDAQ:AAPL) recently unveiled a fingerprint-enabled authentication system as a major feature of its new iPhone 5S. Although some industry watchers have raised privacy concerns about Apple's new Touch ID fingerprint scanner, others point out that the use of biometric authentication may actually protect users from intrusive government snooping.
As Der Spiegel recently reported, leaked NSA documents have revealed that the U.S. government has the capability to intercept and decode telecommunications traffic. However, as recently noted by Bloomberg, Apple has stated that users' fingerprints will never be stored online or backed up to the iCloud.
Instead, users' fingerprints will only be stored in an encrypted form within a secure section of the iPhone5S's A7 chip. Since the fingerprint data will never be transmitted over a network, Apple's biometric authentication system may actually be more secure against the government's decryption efforts.
According to Michigan State computer scientist Anil Jain via Bloomberg, Apple's decision to keep fingerprint data off the network makes it "extremely difficult" to steal and decrypt the fingerprint data. However, Jain also notes that no system is 100 percent secure and "If you spend enough resources on it, anything is possible."
While some tech industry commentators think that Apple's Touch ID system is more secure than traditional passwords, others have noted that there may be unintended legal ramifications to a fingerprint-based authentication system. Wired's Marcia Hofmann recently observed that the government could compel iPhone 5S owners to unlock their devices since biometric data is not covered under Fifth Amendment protections against self-incrimination.
Apple's new iPhone 5S and iPhone 5C devices will become available to the public on September 20. Here's how Apple closed out the trading week.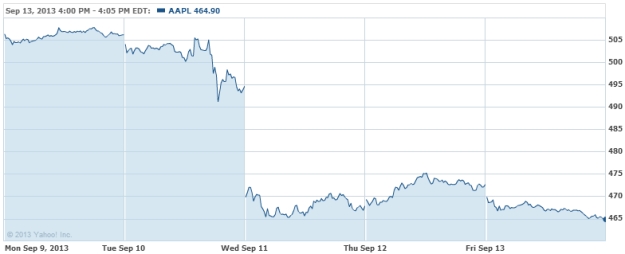 Don't Miss: Apple's High-End iPhone Meets High Fashion.
Follow Nathanael on Twitter (@ArnoldEtan_WSCS)