Is Apple's New Spaceship Headquarters Already Behind the Times?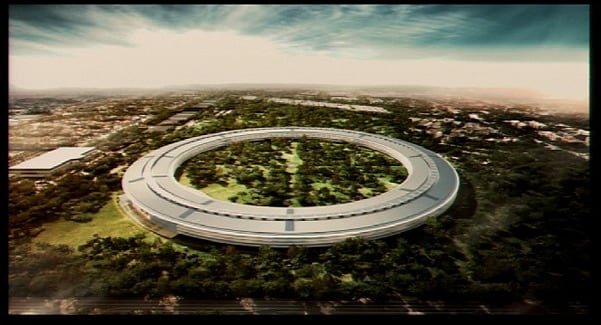 Will the suburban location of Apple's (NASDAQ:AAPL) futuristic-looking new headquarters hurt the company's talent recruitment efforts? As noted by WIRED, many new tech companies are starting to establish headquarters in San Francisco, including Dropbox, Uber, Square, Airbnb, and Pinterest. Meanwhile, large tech companies like Google (NASDAQ:GOOG) that already have suburban headquarters are opening or expanding offices in San Francisco in order to take advantage of the city's pool of tech workers.
The tech companies' migration out of Silicon Valley is a reflection of a larger overall trend in American society. According to Brookings Institution research cited by the Wall Street Journal, over 43 percent of Americans with bachelor degrees lived in 20 metropolitan areas in 2010, including San Francisco. In this sense, Apple's new headquarters is a throwback to an era when companies tried to locate their offices near workers' homes in the suburbs.
Apple is currently constructing a new campus in Cupertino, California that features a ring-shaped office building with curved windows and polished concrete floors. Officially called Apple Campus 2, the project is more popularly known as the "spaceship" headquarters due to the unusual design of its main building. Although the project was conceived by legendary CEO Steve Jobs as "the best office building in the world," its location in Silicon Valley's suburban sprawl may make Apple a less attractive employment option for young tech workers that prefer to live in dense urban centers like San Francisco.
"The showcase headquarters of the past, the beautiful suburban campuses — that's a very obsolete model now," observed Urban Land Institute CEO Patrick Phillips via the Wall Street Journal. "Given energy prices and traffic conditions, it'll be a long time before we see another wave of suburbanization."
On the other hand, Apple's cachet as a premium tech company may outweigh any disadvantages related to its suburban location. In fact, the unique "spaceship" design of Apple's new headquarters might be an added attraction for some tech recruits. Foster + Partners, the same design firm that constructed Apple's recently opened Stanford 2 store, is also leading the Apple Campus 2 project.
According to the project's description, the new campus will accommodate over 14,000 employees and will include nearby amenities like a restaurant and fitness center. Although the project was originally slated for completion in 2015, it now appears that the first phase won't be finished until 2016. According to insider sources cited by Bloomberg Businessweek, "the budget for Apple's Campus 2 has ballooned from less than $3 billion to nearly $5 billion" since it was originally announced.
Here's how Apple traded on Friday.
Follow Nathanael on Twitter (@ArnoldEtan_WSCS)
More from Wall St. Cheat Sheet: