Is Apple's R&D Nickel-and-Dimed?
Even while its cash reserves swell to unprecedented levels, Apple (NASDAQ:AAPL) continues its longstanding nickel-and-dime approach to its research and development spending.
Although Apple spent $1.1 billion on research and development in the March quarter, this is a relatively small amount when you consider that the Cupertino-based company has $145 billion in its cash hoard reports Jessica Leber at MIT Technology Review. Leber notes that Apple's R&D expenditure was only a measly 2.5 percent of its total revenue. In contrast, fellow tech-giant Google (NASDAQ:GOOG) spent 13 percent of its total revenue on R&D.
Ashlee Vance at Bloomberg Businessweek notes that "Google, with its self-driving cars and virtual reality glasses, is really starting to show Apple up. Even Microsoft (NASDAQ:MSFT), with its motion-detecting Kinect sensor and its incorporation of touch technology into all manner of devices, has added some pressure." However, does this really mean that Apple is falling behind its competitors in the race to innovate?
Apple's nickel-and-dime approach to R&D is nothing new. In fact, this cheap research philosophy was espoused by none other than Steve Jobs himself. In 1998, Leber notes that Jobs told Fortune that "Innovation has nothing to do with how many R&D dollars you have."
Despite Apple's commitment to this philosophy, it has recently upped the amount of money that it dedicates to R&D. According to Leber, Apple spent a total of $2.4 billion on R&D in 2011 and $3.4 billion in 2012. Apple has already spent $2.1 billion on R&D in the first and second quarters of this year. If it continues following previous trends, the company will most likely spend more on R&D this year than it ever has before. However, despite the increase in overall dollar amount, the R&D budget seems to be proportionally linked at 2 to 3 percent of Apple's total revenues.
Could some of these research dollars be funding the next "must-have" product development? In this week's conference call, CEO Tim Cook referred to "a lot more surprises in store." Apple still has the potential to debut a revolutionary product and create a new market like it did with the iPad.
Besides its potential for surprising consumers with a new product, Apple is also still in a strong strategic position. Leber notes that Apple's massive cash reserves also give it the option to make sudden company acquisitions that could "reshape the electronics and Internet media industry."
Here's how Apple has been trading this week.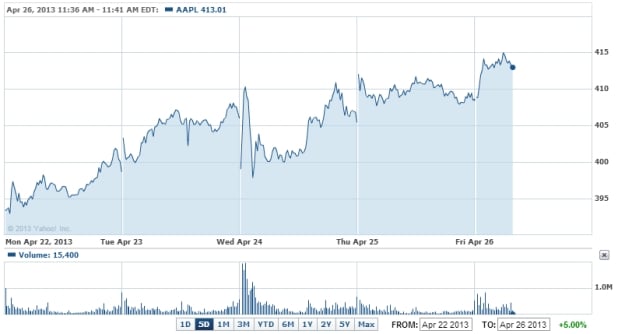 Don't Miss: Are Macs Better Than PCs at Being PCs?