Is Apple's Safari Browser Losing the Mobile Market?
Ever since the introduction of the iPhone, Apple (NASDAQ:AAPL) has long dominated the mobile web browser market with its Safari browser. However, it appears that they are slowly surrendering some ground to Google (NASDAQ:GOOG)'s Android and other various rivals.
According to Web tracker Net Application's mobile-browser traffic report, Safari was still the number one mobile web browser in February, accounting for 55.4 percent of all mobile browser traffic. However, that is nearly a 6 percent drop from Safari's share in January and over a 10 percent drop from its share last summer.
Is Apple now a once-in-a-decade buying opportunity? Click here to get your 24-page Ultimate Cheat Sheet to Apple's Stock now!
Meanwhile, the stock Android browser took a 22.8 percent share of February's mobile web browser traffic. Opera Mini came in at third place, with 12.7 percent share of the market, but still up from the 9.8 percent share it held in January.
No other mobile web browser reached double-digit market share numbers, although Google's Chrome held the edge at a distant fourth place with 1.9 percent of all mobile-browser traffic. Internet Explorer's mobile web browser from Microsoft (NASDAQ:MSFT) wasn't far behind Chrome, capturing about 1.5 percent of the mobile-browser traffic in February.
The stock market is roaring back in 2013. Click here now to discover winning stocks!
Although Safari still has the lion's share of mobile browser traffic, the growing popularity of mobile web browsing and the sheer number of mobile devices utilizing the Android operating system points to a continued trend of lost market share for Apple's Safari mobile web browser.
Net Applications data methodology is based on 160 million unique visitors to over 40,000 websites around the globe.
Apple Inc. shares closed down 2.48 percent at $430.47 on Friday.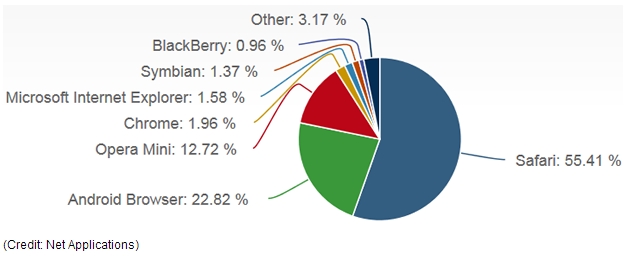 Don't Miss: Apple Shakes Up its Executive Incentive Structure.