Is BlackBerry Stock Enticing at These Prices?
With shares of BlackBerry (NASDAQ:BBRY) trading around $9, is BBRY an OUTPERFORM, WAIT AND SEE or STAY AWAY? Let's analyze the stock with the relevant sections of our CHEAT SHEET investing framework:
T = Trends for a Stock's Movement
BlackBerry is a designer, manufacturer, and marketer of wireless solutions for the worldwide mobile communications market. Through the development of integrated hardware, software, and services, it provides platforms and solutions for seamless access to information, including email, voice, instant messaging, SMS, Internet, and intranet-based applications and browsing. Its products and services include the BlackBerry wireless solution, the Research In Motion Wireless Handheld product line, the BlackBerry PlayBook tablet, software development tools, and other software and hardware.
BlackBerry has recently rebranded, which may offer a boost to their bottom line. However, a recent negative earnings report has the stock hurting. Also, the company is apparently open to going private, sources told Reuters, as the struggling company is running out of options to make itself more competitive and find a working solution to gain market share.
T = Technicals on the Stock Chart are Weak
BlackBerry stock has not done very well as it has struggled against tough competition. The stock is now trading near lows for the year and looks to be attempting to stabilize. Analyzing the price trend and its strength can be done using key simple moving averages. What are the key moving averages? The 50-day (pink), 100-day (blue), and 200-day (yellow) simple moving averages. As seen in the daily price chart below, BlackBerry is trading below its key averages which signal neutral to bearish price action in the near-term.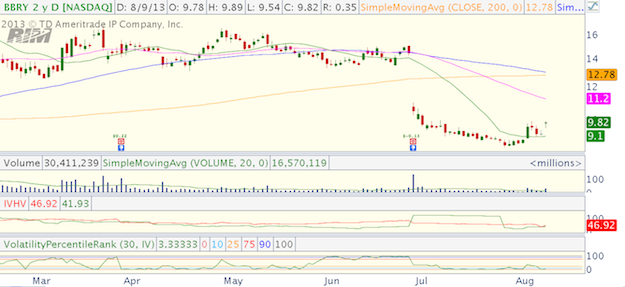 (Source: Thinkorswim)
Taking a look at the implied volatility (red) and implied volatility skew levels of BlackBerry options may help determine if investors are bullish, neutral, or bearish.
| | | | |
| --- | --- | --- | --- |
| | Implied Volatility (IV) | 30-Day IV Percentile | 90-Day IV Percentile |
| BlackBerry Options | 46.92% | 3% | 0% |
What does this mean? This means that investors or traders are buying a very small amount of call and put options contracts as compared to the last 30 and 90 trading days.
| | | |
| --- | --- | --- |
| | Put IV Skew | Call IV Skew |
| August Options | Steep | Average |
| September Options | Steep | Average |
As of today, there is an average demand from call buyers or sellers and high demand by put buyers or low demand by put sellers — all neutral to bearish over the next two months. To summarize, investors are buying a very small amount of call and put option contracts and are leaning neutral to bearish over the next two months.
On the next page, let's take a look at the earnings and revenue growth rates and the conclusion.
E = Earnings Are Decreasing Quarter-Over-Quarter
Rising stock prices are often strongly correlated with rising earnings and revenue growth rates. Also, the last four quarterly earnings announcement reactions help gauge investor sentiment on BlackBerry's stock. What do the last four quarterly earnings and revenue growth (Y-O-Y) figures for BlackBerry look like and more importantly, how did the markets like these numbers?
| | | | | |
| --- | --- | --- | --- | --- |
| | 2013 Q2 | 2013 Q1 | 2012 Q4 | 2012 Q3 |
| Earnings Growth (Y-O-Y) | 86.87% | -78.23% | -96.08% | -171.43% |
| Revenue Growth (Y-O-Y) | 9.13% | -41.26% | -47.21% | -31.07% |
| Earnings Reaction | -25.20% | -0.89% | -22.73% | 5.04% |
BlackBerry has seen mostly decreasing earnings and revenue figures over the last four quarters. From these numbers, the markets have not been satisfied with BlackBerry's recent earnings announcements.
P = Weak Relative Performance Versus Peers and Sector
How has BlackBerry stock done relative to its peers, Apple (NASDAQ:AAPL), Google (NASDAQ:GOOG), Nokia (NYSE:NOK), and sector?
| | | | | | |
| --- | --- | --- | --- | --- | --- |
| | BlackBerry | Apple | Google | Nokia | Sector |
| Year-to-Date Return | -17.10% | -14.30% | 26.27% | 5.82% | 5.03% |
BlackBerry has been a poor performer, year-to-date.
Conclusion
BlackBerry is attempting to change the wireless communications industry with its rebranded company and products. A recent rebranding, negative earnings announcement, and potential privatization has given investors a lot to digest. The stock has not done very well recently and is still attempting to stabilize. Over the last four quarters, earnings and revenue figures have mostly been decreasing which has not satisfied investors in the company. Relative to its peers and sector, BlackBerry has been a weak year-to-date performer. WAIT AND SEE what BlackBerry does in coming quarters.
Using a solid investing framework such as this can help improve your stock-picking skills. Don't waste another minute — click here and get our CHEAT SHEET stock picks now.