Is Facebook Stealing Apple's Momentum?
The long awaited day is finally here. After pricing its initial public offering at $38 per share, the top end of its $34-$38 range, Facebook (NASDAQ:FB) has started trading on the Nasdaq. The social-media giant is now the largest technology IPO in history and is valued at a greater market capitalization than Amazon.com (NASDAQ:AMZN).
According to discussions between market participants and CNBC, the small investor demand for Facebook has been higher than any other IPO in history. CNBC reports, "The decision on how large a slice to give retail investors was being hammered out overnight, according to several other people close to the proceedings, and was expected to be more than 15 percent but less than 25 percent." Previously, General Motors (NYSE:GM) held the title of the highest retail stock allocation with about 20 percent.
Don't Miss: Did Facebook and Mobile Gaming Kill GameStop
The hype from Facebook (NASDAQ:FB) is certainly having an effect on the investing community. StockTwits, which is a real-time, free social network for investors and traders, shows that Facebook is actually receiving more interest than Apple Inc. (NASDAQ:AAPL). It is the first time in several months that Apple was not the top-dog on StockTwits' trending ticker heatmap.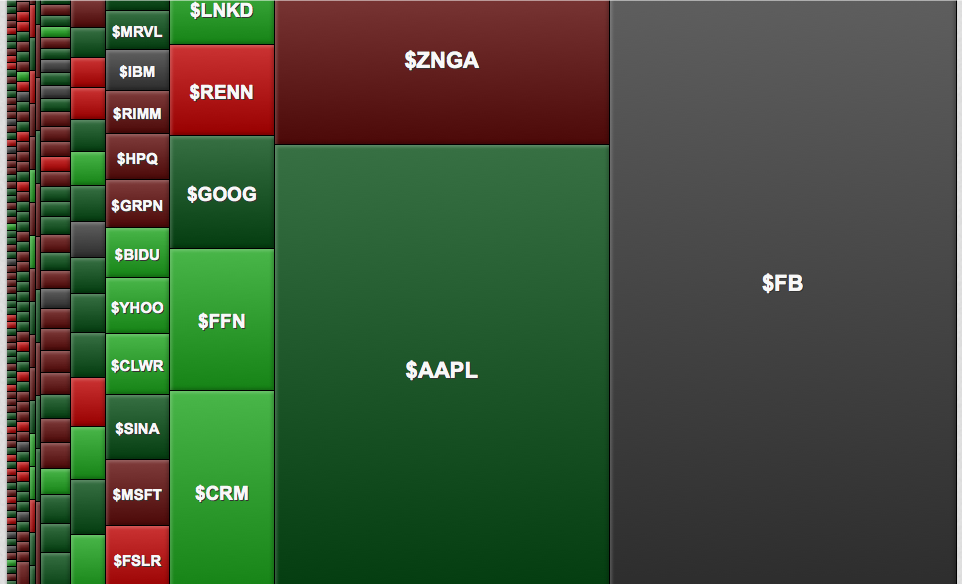 In fact, since hitting an all-time high of $644 per share in April, shares of Apple have fallen about 20 percent. The decline represents about $100 billion in market capitalization. Coincidentally or not, Facebook's IPO value came in at $104 billion.
Before investors jump into Facebook (NASDAQ:FB), they should strongly consider that investing in shares at this point in time is really a pure bet on the company's ability to monetize its 900 million users more effectively than it does now. Unlike Apple, which produces products such as the iPhone and iPad that people crave, Facebook relies heavily on advertising for revenues. Recently, those ads have come under fire.
In the first 30 seconds of Nasdaq trading, a whopping 82 million Facebook shares were traded. The stock began trading on the stock exchange slightly above $42.05, but traded back to $38 just 20 minutes later. The cooler-than-normal opening also seemed to temper enthusiasm for Zynga Inc. (NASDAQ:ZNGA). The social-gaming company, which receives a significant portion of its revenues from Facebook, had shares halted at one point today as they fell more than 13 percent.
Shares of Facebook closed almost flat at $38.23 per share on 577 million shares traded.
Investor Insight: Facebook IPO: Goldman Sachs Cashes Out Big