Is Facebook Unfriending Apple?
In many ways Facebook (NASDAQ:FB) and Apple (NASDAQ:AAPL) would seem to be natural allies in the world of technology. Facebook is a company that helps users integrate their friends into their online experience, and Apple is a company that has products that will integrate into every aspect of a user's life, from work to recreation. However, Facebook CEO Mark Zuckerberg's recent comments and the launch of a new Facebook Home mobile interface that only works for Android-based mobile devices are potential signs of discord between the two tech giants, reports Gigaom.
In an interview with Fortune via Gigaom, Zuckerberg referred to the absence of Facebook Home on Apple devices by stating, "We'd love to offer this on iPhone, and we just can't today, and we will work with Apple to do the best experience that we can within what they want, but I think that a lot of people who really like Facebook — and just judging from the numbers, people are spending a fifth of their time in phones on Facebook, that's a lot of people. This could really tip things in that direction. We'll have to see how it plays out."
Reading between the lines, it would appear that Zuckerberg wanted to include Facebook Home as a primary interface option on Apple mobile devices but ran up against Apple's tendency to keep a tight rein on its ecosystem. In another interview with Wired via Gigaom, Zuckerberg alludes to Apple's reticence to surrender control of any part of its ecosystem when he states that "they [Apple] want to own the whole experience themselves"…
Although Facebook sharing is already part of Apple's iOS and OS X operating systems, these recent comments may hint at a possible future divergence between the two companies. Zuckerberg sketched out the philosophical differences between Facebook and Apple in the same Wired interview via Gigaom, stating, "There are a bunch of companies that try to make every release perfect, and Apple is the best at that. That's wonderful, but there's another way of doing things that's potentially even better over the long term—allow yourself room to experiment and don't try to make each individual release as polished as possible."
In this sense, Facebook may have more in common with Google (NASDAQ:GOOG), the sponsor of the open source Android operating system that was happy to integrate the new Facebook Home interface.
Apple closed down 1.06 percent at $423.17 on Friday and Facebook closed up 1.17 percent at $27.39.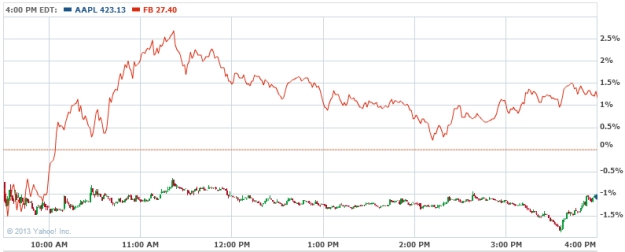 Don't Miss: Is Facebook Turning Its Back on Apple?