Is Google Chasing Apple's Patented Technology?
At the All Things D conference last week, Regina Dugan of Google's (NASDAQ:GOOG) Motorola Mobility discussed the future possibility of using wearable electronic tattoos with embedded sensors that will function as an automatic authentication for all of a user's devices. However, Patently Apple notes that Apple (NASDAQ:AAPL) already has a patent covering this product.
The patent is titled "Personal items network, and associated methods" and was granted to Apple in 2009. In that patent, Apple describes an "adhesive strip collectively take a form similar to an adhesive bandage" that contains either a "processor and other elements" or "a single system-on-chip integrated circuit." Apple outlines several scenarios and methods for using this technology.
One concept covered participants using the adhesive electronic "tattoos" in a martial arts sporting event as a way of monitoring the impact and velocity of hits. This information could even be displayed on TVs for viewers at home. Although this patent dealt primarily with monitoring the movement of people through these adhesive electronic devices, the patent also seems to cover many scenarios that are related to Motorola's "electronic tattoo" proposal.
One embodiment uses this advanced sensor strip to keep track of a user's personal items, such as "cell phone, car keys, wallet or purse, personal data assistant, digital watch, and/or personal computer." Significantly, the patent describes a method for "linking at least two personal items together on a network."
In the "Event Monitoring Device" section of the patent, Apple even outlines the personal identification aspects of this wearable sensor. As stated in the patent, "the invention releases internal data only to an ID with the correct passwords and/or data protocols. The ID can take many forms, including a cell phone or other electronic device (e.g., a MP3 player, pager, watch, or PDA) providing communications with the EMD transmitter."
Dugan also references the work of "Doctor Rogers," who is presumably John Rogers, the founder of the tech company MC10. Dugan notes that Rogers is a pioneer in developing "high performance silicon connected by accordion like structures that will allow it to stretch up to 200 percent and still be performing." Interestingly, MC10 illustrates the use of its advanced adhesive sensors with a photograph of an athlete monitoring his heart rate by looking at an iPhone that is linked to the sensor.
Apple closed down 0.41 percent, or $1.85, at $449.73 on Friday. Here's how Apple and Google has traded over the past week.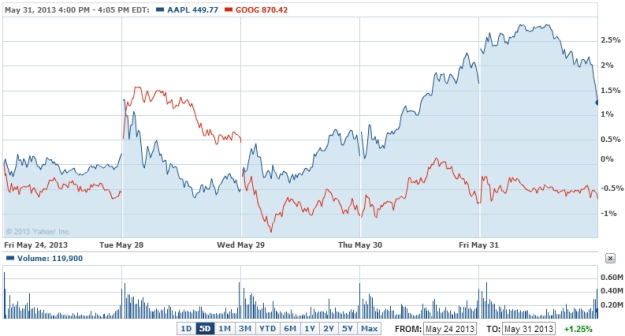 Follow Nathanael on Twitter (@ArnoldEtan_WSCS)
Don't Miss: Analyst: Apple Investors Could See a June Bounce.