Is India Ready to Love Apple?
The need for Apple (NASDAQ:AAPL) to make a big impact in emerging markets has been much discussed over the past few days as the company's stock price tries to factor in its growth expectations. China and Brazil have been touted as two markets that hold a lot of growth potential, and analysts have recommended the launch of a cheaper iPhone to attract the countries' cost-conscious consumers.
One market that has not been talked about as much, but clearly holds similarly high potential is India. And according to a local report, the country may be ready to embrace Apple more than ever. According to the Economic Times, sales of Apple devices, with iPhones leading the way, rose by between 300 and 400 percent in the past quarter. According to IDC, Samsung had a 46 percent share of the Indian market at the end of September, with Apple nowhere in the top five with a tiny 1.4 percent share of sales. However, the company had recently entered into distribution partnerships with Redington and Ingram Micro (NYSE:IM), and the new measures seemed to have paid off.
According to Fortune, at the Asymconf in California last week, IBM's (NYSE:IBM) Paul Brody said that he just came back from India where mobile carriers were activating iPhones at the rate of 2,000 per day. There's more…
Convergence Catalyst's Jayanth Kolla told Economic Times that Apple's strategy in India copies the route it took to success in China, where it studied the market for a long time before getting aggressive about executing its sales strategy. According to Kolla, Apple's India team grew by 500 percent in six months, going from 30 to 150 employees. It may not have a cheaper iPhone to offer Indian consumers yet, but Apple has instead adopted installment-based payment schemes operated through resale partners. Recently, the iPhone maker was said to have taken up a similar measure in China.
Timed along with the launch of the iPhone 5 in India on November 2, Apple announced that it would also now start billing content through the iOS App Store in the Indian rupee. It also launched the iTunes Music Store in the country in December.
Can India be the answer to Apple's stock turnaround in 2013: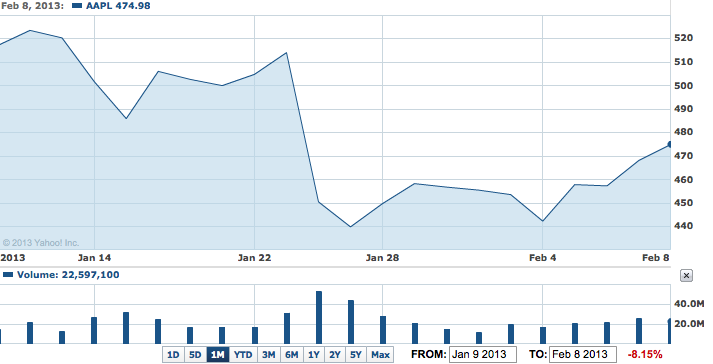 Don't Miss: What Will the Apple Stock Debate Do?