Is it Time to Give Up On Apple?
The surrender of Apple's (NASDAQ:AAPL) stock to gravity has persisted, but according to one analysis, it wasn't time for investors to give up on the company just yet. According to Barron's, most concerns about the company's future, including threats to margins and profits as well as weaknesses at suppliers and lowered demand, appear overdone and factored into the stock.
"Apple has always been willing to give up some of its stellar profit margins to lure customers into its insular ecosystem," the article said. "When it reports earnings on January 23, investors might become more reassured if Apple sells enough iPad minis to offset what it gave up in margins to the migration from bigger, more profitable iPads. Investors fretting about quieter Chinese stores on the debut of the iPhone 5 also overlooked the lottery and appointment systems Apple installed there to tame the unruly mobs lunging at previous product launches."
Should you buy or sell Apple's stock ahead of earnings this month? Our 20-page proprietary analysis will help you save time and make money. Click here to get your SPECIAL REPORT now.
Part of the worry was that rival Samsung's (SSNLF.PK) stock was pushing an all-time high. In addition, the Korean company announced last week that it had earned an operating profit of 8.8 trillion won, or $8.3 billion, in its latest quarter, a fifth consecutive quarterly record.
Here's how Apple has traded since its last earnings report: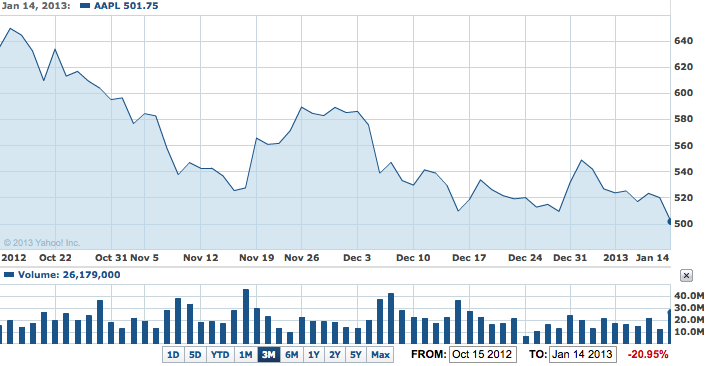 But according to Barron's, Apple's strategy of hooking users to "its software and its suite of toys" was still working. It cited a report from Apple earlier this month that said customers had downloaded 40 billion programs to their iPhones, iPads, and iPods since the 2008 launch of the App Store, and that half of those came in 2012 alone.
Start 2013 better than ever by saving time and making money with your Limited Time Offer for our highly-acclaimed Stock Picker Newsletter. Get our fresh Feature Stock Pick now!
Its rumored plans to launch a cheaper iPhone were part of the same strategy and not "a death knell for margins" or "a desperately belated grab for the lower-end market," the article added. "As it did with iPods and iPads, Apple has always made a splashy debut with a pricey new device that gets the world hooked before it eventually moves down in price as the market matures — either by selling older generations of the product at lower prices or packing more features into the same gadget for the same price," it said.
In addition, the fact that Apple had more than $29 billion in cash and more than $92 billion in other securities was a comforting one. Despite all the worries, the stock still offered a 2 percent dividend yield and was fetching just 10.6 times 2013 profit.
Don't Miss: Here's What Apple Needs to Fix Its Stock.