Is Microsoft Trying to Steal Apple's iTunes Radio Thunder?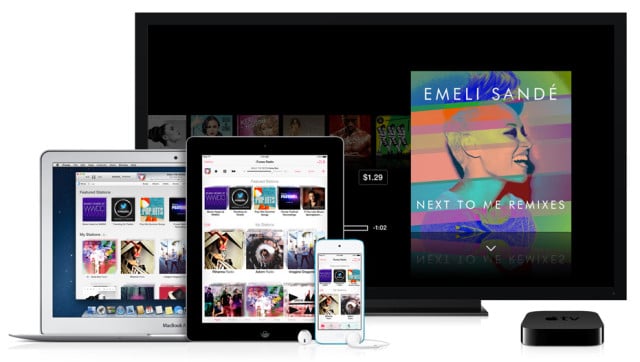 Microsoft (NASDAQ:MSFT) unveiled an iOS and Android app for its Xbox Music streaming service just one day before Apple (NASDAQ:AAPL) is expected to premiere its own iTunes Radio music streaming service with iOS 7, Apple Insider reports. Besides launching two mobile apps, Microsoft also rolled out Xbox Music streaming as a free service for all Web users.
However, the Xbox Music app for iOS requires users to have an Xbox Music Pass. The Xbox Music Pass subscription is $9.99 per month and allows users to listen to the music streaming service without advertisements.
Apple's iTunes Radio will offer a similar ad-free listening option for users that are subscribers to Apple's cloud-based iTunes Match service. However, an annual subscription to iTunes Match costs $24.99, while a year's subscription to Xbox's Music Pass is $99.99.
According to the iTunes Xbox Music page, the app allows users to "Stream ad-free music from a catalog of tens of millions of songs"; "Add songs, albums, and playlists to your Xbox Music collection and access them from other devices"; and "Create playlists that sync across your phone, Xbox 360, PC, tablet, and the web."
Similarly, iTunes Radio will give users access to Apple's large iTunes music catalog. While Apple's iTunes Radio will feature some stations with pre-programmed playlists, other stations will allow users to create their own playlists.
Apple and Microsoft are both competing for a slice of the increasingly lucrative digital music streaming market.  "The past two years have seen a remarkable international expansion of streaming as a distribution model, but in terms of its long-term potential we're still only scratching the surface," ABI Research analyst Aapo Markkanen said in a research note. "At end-2013 the cumulative revenue from premium subscriptions will amount to less than $5 billion, yet we expect this all-time pot to exceed $46 billion in the next five years."
According to ABI Research data, Spotify currently dominates the on-demand music streaming market with a 32 percent share. However, Apple's significant digital music download market share may give it a competitive edge over music-streaming rivals like Microsoft.
Follow Nathanael on Twitter @ArnoldEtan_WSCS