Is Netflix Losing Its Edge?
The battle for the living room continues to heat up. Netflix (NASDAQ:NFLX) made a name for itself over a decade ago by offering movies delivered to your mailbox at a very attractive price. Flash forward to today and the company has grown to more than 30 million online streaming members in various parts of the world. Although Netflix still has a large lead among alternative TV providers, competitors are showing strength.
According to a recent survey by 451 Research's ChangeWave service, which polled 1,115 North American consumers, 82 percent of respondents used Netflix to watch paid Internet television and video content in September, down slightly from 84 percent in February. Amazon (NASDAQ:AMZN), the world's largest online retailer, increased its share from 17 percent to 22 percent in the same time period. Other paid services such as iTunes and Hulu Plus also showed gains.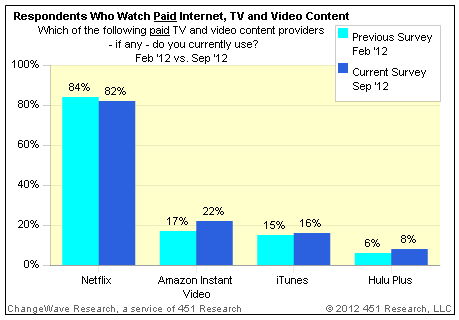 "While Netflix still holds the largest share by far of the paid alternative TV market, consumers continue to shift towards Amazon's Instant Video service," said Andy Golub of 451 Research's ChangeWave service. "As Amazon's TV and movie content becomes more competitive with Netflix, its popularity is surging among consumers."
Catalysts are critical to discovering winning stocks. Check out our newest CHEAT SHEET stock picks now.              
ChangeWave notes that EPIX, a popular online movie distribution channel, recently became available on Amazon Instant Video. Epix previously had an exclusive deal with Netflix, but it expired. The survey found that Epix's move to Amazon made 17 percent of Netflix's subscribers say they are "More Likely" to cancel their Netflix subscription, while 65 percent said it had no effect. Making matters worse, 18 percent of Netflix subscribers already pay for Amazon Instant Video, representing a 4 percent increase from February.
The survey also asked respondents about customer satisfaction and which devices they used for streaming video. Although Netflix has the largest share, Apple's (NASDAQ:AAPL) iTunes received the highest amount of "Very Satisfied" ratings. Netflix came in second with 23 percent, with Amazon and Hulu close behind.
Apple also had the number one Internet-connected device among respondents. The iPad grew its share from 25 percent in the February survey to 32 percent in September. Blu-Ray came in second place with 31 percent, while the iPhone's share jumped to 25 percent, taking third place. Video game consoles such as Sony's (NYSE:SNE) Playstation 3 or Microsoft's (NASDAQ:MSFT) Xbox 360 held a 24 percent market share. Apple now manufacturers three of the top seven Internet connected devices.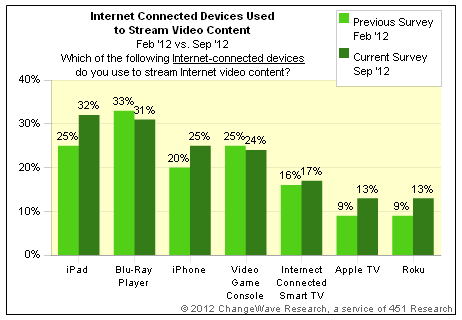 Given Netflix's large presence in video streaming and its low market capitalization, the company has been the focus of buyout rumors recently. Microsoft was said to be interested in Netflix, but nothing has been confirmed. Last week, Carl Icahn disclosed ownership of nearly 10 percent in Netflix through call options, citing an undervalued share price and strategic value for larger companies.
On Monday, Netflix adopted a shareholder rights plan, with the goal of preventing an outsider not approved by the company's board from accumulating a stake of 10 percent or more. The plan will remain in effect for three years.
Don't Miss: Netflix Returns Icahn's Love With Poison Pill.