Is Samsung Trying to Delay the Next Apple Trial?

Samsung (SSNLF.PK) has filed a motion requesting a new trial over Apple's (NASDAQ:AAPL) so-called "rubber-banding" patent, reports Foss Patents. Samsung was found to have infringed this patent following the August 2012 trial, which resulted in the Korea-based electronics company being ordered to pay $1.05 billion in damages to Apple.
Apple's patent covers a scrolling method on touchscreens that allows displayed content to "bounce back" when the edge of an electronic document is reached. The United States Patent and Trademark Office recently reversed its preliminary rejection of Apple's patent, and confirmed most of the patent's original claims, including "claim 19" that covers the "rubber-banding" technique, reports Foss Patents.
Last month, Apple's "rubber-banding" patent was further confirmed when a court in Japan ruled Samsung violated the patent by using the feature on its devices, reports Bloomberg. Since Apple's claims have been reaffirmed by the USPTO and a Tokyo court, Samsung will likely find it harder to reverse this decision on appeal.
However, now Samsung is requesting an entirely new trial over the "rubber-banding" patent. Apple has previously characterized similar motions from Samsung as attempts to "delay and derail" the damages retrial scheduled for November.
The original $1.05 billion in damages awarded to Apple in the August 2012 trial was reduced by $450.5 million when it was discovered that the jury based its award amount on an "impermissible legal theory." A new trial to determine damages over certain Samsung products has been scheduled for November.
Here's how Apple has traded over the past five days.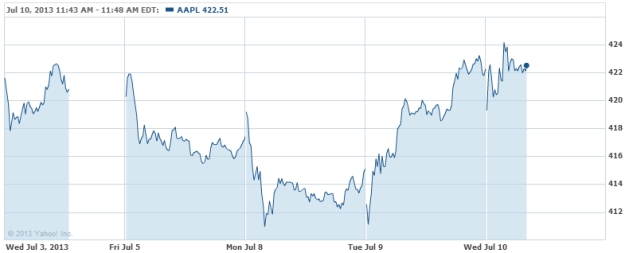 Follow Nathanael on Twitter (@ArnoldEtan_WSCS)
Don't Miss: Emerging Markets Are Where Apple's Competition is Growing.