Is Samsung's Growing Clout Scaring Apple?
Samsung (SSNLF.PK) and Apple (NASDAQ:AAPL) continue to dominate a growing global smartphone market, although the iPhone maker is losing some ground to its Korean rival. According to research firm IDC, Samsung's market share in the quarter ending in December rose to 29 percent from 22.5 percent a year earlier, while Apple's share dropped slightly to 21.8 percent from 23 percent.
Samsung shipped 63.7 million devices to Apple's 47.8 million and saw a 76 percent year-over-year growth to the iPhone maker's 29 percent. The Korean company is going strong on the back of its ultra popular Galaxy line of based smartphones and mid-range devices.
"Samsung set a new record for the number of smartphones shipped in a single quarter and in a single year," the report said. "Its broad and deep line-up of [Google (NASDAQ:GOOG)] Android smartphones, particularly the Galaxy-branded Android family, combined with sustained demand for its mid-range and entry-level models to account for the remarkable shipment volumes."
Apple continues to make a push into China, but is being held back by its recent supply constraints. "Apple's record iPhone shipments in the quarter were driven by successes in Greater China, where shipments more than doubled, as well as the U.S., where 6.2 million iPhones were activated on Verizon (NYSE:VZ) alone," the report said. "Interestingly, the company's success was due in large part to older models, in particular the iPhone 4."
Meanwhile, Huawei's share rose to 4.9 percent from 3.5 percent and took it to the third spot ahead of Sony (NYSE:SNE), whose share also increased to 4.5 percent from 3.9 percent a year earlier. Another Chinese company, ZTE, came fifth with 4.3 percent.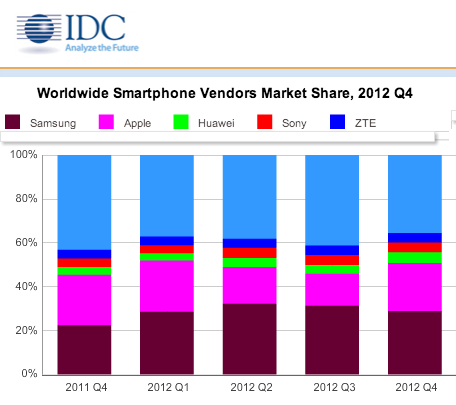 The overall global smartphone market grew 36.4 percent to 219.4 million units and represented 45.5 percent of all mobile phone shipments, the highest share ever. In all of 2012, 545.2 million smartphones were shipped globally, 10.1 percent more than in 2011, IDC added.
"The high-growth smartphone market, though dominated by Samsung and Apple, still presents ample opportunities for challengers," IDC's Kevin Restivo said in the report. "Vendors with unique market advantages, such as lower-cost devices, can rapidly gain market share, especially in emerging markets. A good example is Huawei, which overtook LG as a Top 5 vendor in the overall mobile phone market and passed HTC to become a Top 5 smartphone vendor."
Don't Miss: Is Apple Fixing Its Labor Problems?