Is Slowing Growth a Worry For Apple's iOS?
While Apple's (NASDAQ:AAPL) iOS posted another quarter of strong demand in the three months ended in December, the software's year-over-year growth slowed compared to the overall market. Google's (NASDAQ:GOOG) Android, meanwhile, continued to grow on the increasing popularity of Samsung (SSNLF.PK) handsets, IDC said in a new report on the global smartphone operating system market.
One thing was still the same from last year: Android and iOS completely dominated the mobile market, accounting for more than 91 percent of it.
Android took a 70.1 percent share of the OS market in the fourth quarter with its 159.8 million shipments. Apple's iOS made up 21 percent for 47.8 million in unit shipments. Last year during the same period, Android owned 52.9 percent, while iOS accounted for 23 percent.
BlackBerry (NASDAQ:BBRY) was in third place with a 3.2 percent share with 7.4 million shipments, down from 8.1 percent last year. Microsoft's (NASDAQ:MSFT) Windows Phone came in next with a 2.6 percent share on 6 million shipments, gaining from 1.5 percent in 2011.
Chart courtesy of IDC: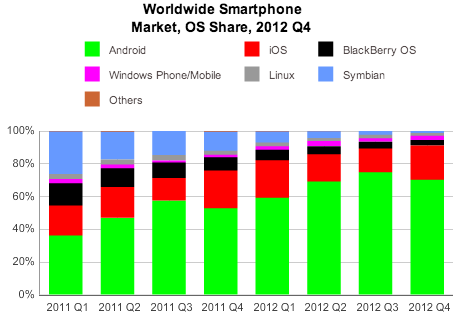 As Apple's market share fell, Samsung was the biggest contributor to Android's success, IDC noted, as the Korean company accounted for 42 percent of all smartphone shipments during the year for the Google operating system.
Meanwhile, while demand for the iPhone 5 was strong, a possible larger-screen model and an inexpensive version of the Apple smartphone in the middle of this year will help boost growth, the IDC added.
Don't Miss: Bill Ackman Won't Buy Into Mysterious Apple.