Is Steve Ballmer Knocking Apple's Business Model?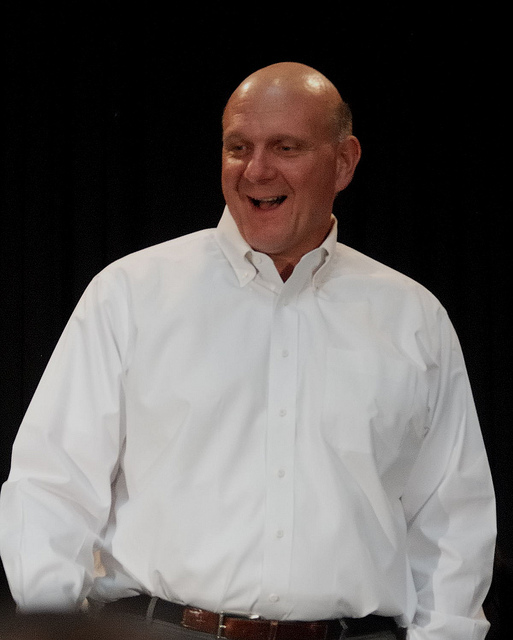 Did the soon-to-be-retiring CEO of Microsoft (NASDAQ:MSFT) take a parting shot at Apple (NASDAQ:AAPL) in a recent interview? While talking with ZDNet's Mary Jo Foley, Steve Ballmer noted that Apple has a hardware-focused approach to the computer business and suggested that Microsoft's "integrated business model" was broader and better in the long run.
Ballmer pointed out that computer technology intertwines "the device, the operating system, the back-end consumer services, and the extensibility of those — of that offering into enterprise services." However, he also noted that other tech companies try to compartmentalize, or "bucketize things."
"Apple is trying to make a lot of money on the device. Amazon (NASDAQ:AMZN) is trying to make it all on the back-end. So is Google (NASDAQ:GOOG). Rather than say the model is FOO or BAR, the model is to deliver these incredible, high value experiences that will span hardware innovation, operating system, consumer experiences and enterprise experiences, and then properly monetize them," stated Ballmer.
Microsoft's CEO also seemed critical of Apple's particular approach to the enterprise market. After noting the crossover between the consumer and enterprise markets, Ballmer wondered how a company could separate one market from the other. However, he noted that Apple may have achieved this by not participating "in certain enterprise activities," reports ZDNet.
Microsoft board member John Thompson echoed Ballmer's sentiments by stating that, "We want to be relevant forever, and that's about having a broad based portfolio with the right balance between the consumer and the enterprise segment."
Although Ballmer may see problems with Apple's approach to the computer business, he appears to appreciate the company's organizational style. Last month, the Microsoft CEO issued a company-wide memo that outlined his plan for reorganizing the company by function, instead of the typical separation of divisions by product or agenda. Fortune's Adam Lashinsky noted that Ballmer's proposed reorganization by function seemed to be very similar to how Steve Jobs organized Apple's company structure.
Here's how Apple has traded over the past week.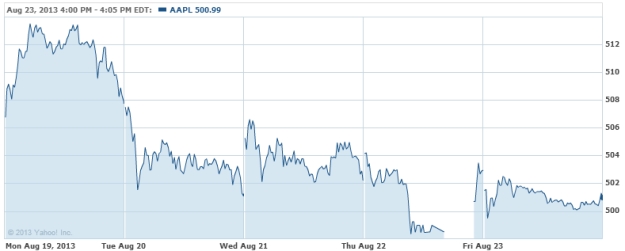 Follow Nathanael on Twitter (@ArnoldEtan_WSCS)
Don't Miss: Why is Carl Icahn Meeting Apple's Cook?