Is Steve Jobs Still Guiding Apple's Pipeline?
The criticism that Apple (NASDAQ:AAPL) has lost its innovative touch has fallen fast and furious on the company recently. While it has long been seen as a company capable of creating one category-defining product after another — and in fact, Apple built its reputation on that type of creativity — analysts have put forward the thesis that founder Steve Jobs' absence can be seen in the company's product pipeline, which is populated by nothing but product refreshes, according to their assessments. Many analysts have cited this change as a reason for the stock's poor performance of late.
As former Microsoft (NASDAQ:MSFT) Chief Operating Officer Bob Herbold wrote in an article published by Forbes, the "Apple era may be on its way out," as the company seems to have lost the vision and leadership it once had. He noted that Steve Jobs had what it took to lead the company in the right direction. In fact, "lead" might have been one of Herbold's most important words, as he said a company's success depends on "visionary leadership that will lead to a continuing flow of leading edge products and services."
But despite these rising concerns, there may be some good news flowing through the Apple product pipeline. According to a report published in the SF Examiner, Apple's government liaison, Michael Foulkes, told San Francisco District Attorney George Gascón that the next two generations of iPhones were designed before Steve Jobs' death. While this tidbit could do much to assuage the fears of Apple's innovation critics, the good news was tempered by the overall negative tone of the interview.
The meeting was arranged in order for Gascón to discuss solutions to stem the tide of smartphone thefts with mobile carriers and device manufacturers — like Apple — but during the talk, mention of the company's product pipeline was made. As Mike Aldax reported, Gascón said he was disheartened by the meeting. "It was very underwhelming," the DA said in regards to his hour-long discussion with Foulkes. "He did most of the talking. It was incredible. He would just go on and on, one subject to the next. It was hard to follow. It was almost like someone who's been trained in the art of doing a lot of talking and saying nothing," he added…
Much of the discussion centered around the research and development behind the creation of a "kill switch" system that could make the iPhone a less desirable target for smartphone thieves.
Gascón indicated that he did not expect Apple to change the design of the upcoming iPhone, but the DA did state that he wanted a plan put in place, especially as industry insiders have informed him that such technology is possible. So far, no mobile carrier or smartphone maker has made a significant attempt to include a foolproof antitheft device in their designs. However, the industry — in conjunction with law enforcement agencies — has proposed a national registry system in the United States that would allow a theft victims to enter the stolen phone's mobile serial number. Carriers would then consult the registry and block activations of phones that have been stolen.
The registry is limited; not all carriers will participate and many stolen devices are shipped overseas for resale. Even the kill-switch technology is not perfect because adding such an antitheft device could result in numerous unanticipated issues for phone designers, noted AppleInsider. For example, a kill switch that could be "unlocked" by a user could also conceivably be unlocked by a sophisticated thief.
But the real problem, according to Gascón, is manufacturers' apparent lack of interest in implementing kill-switch technology, which he stated was fueled by profits. "I think there's just too much being made on stolen phones," he said to the publication, as once a phone is lost, it is typically replaced by a new device.
Here's how Apple (NASDAQ:AAPL) traded on Tuesday: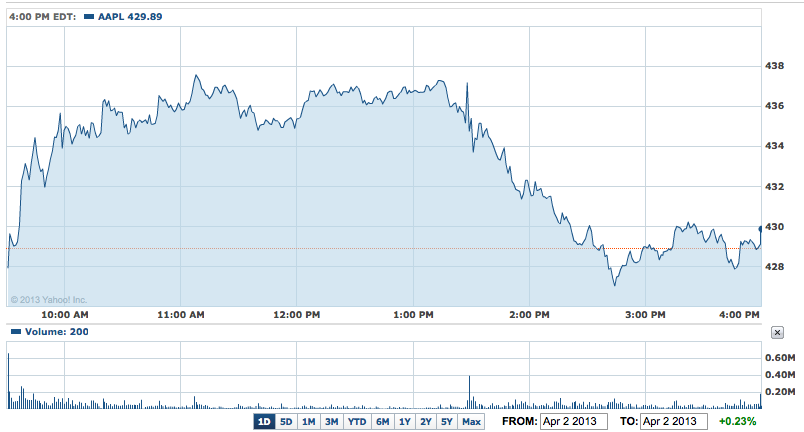 Don't Miss: Has Apple Ended Its China Blues?