Is the App Store the Source of Apple's Inspiration?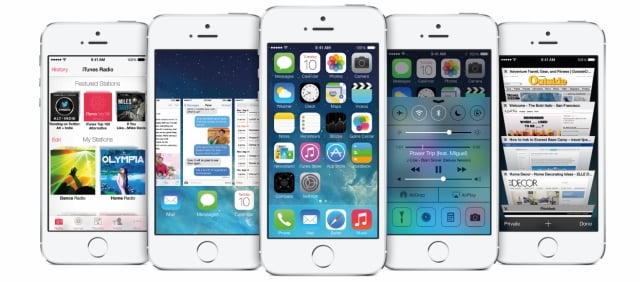 Is Apple (NASDAQ:AAPL) getting its best ideas from third-party application developers? According to unnamed sources cited by The Verge, Jony Ive derived some of his inspiration for iOS 7's minimalist appearance from several App Store apps that were recommended to him.
Some of the apps that Ive reportedly looked at included task manger app Any.do, music app Rdio, and word game Letterpress. All three of these apps feature an uncluttered design style that closely resembles iOS 7's minimalist appearance.
On the other hand, Ive was already well-known for his minimalist hardware design before he was tapped to work on iOS 7. Apple's latest mobile operating system is the most radically redesigned iteration of iOS since it was originally unveiled in 2007. Ive eliminated the skeuomorphic design elements that had long been a hallmark of Apple's software and gave iOS 7 an appearance that more closely meshed with Apple's hardware design.
Although it's not clear if Ive really borrowed concepts from other apps, Brian Fung at the Washington Post recently noted that this wouldn't be the first time that Apple has borrowed ideas from the App Store. As reported last year by Ars Technica, the Notification Center that was introduced in Mac OS X was very similar to Growl, a popular third-party notification app used by many Mac owners.
Regardless of what you may think about Apple's "borrowing," the end result tends to be an improved user experience.  It should also be noted that it is not unusual for functions performed by apps to become redundant when they are subsumed into Apple's framework. For example, what's the point of using a third party app like Pandora (NYSE:P) now that iTunes Radio has been incorporated into iOS 7?
Here's how Apple closed out the trading week on Friday.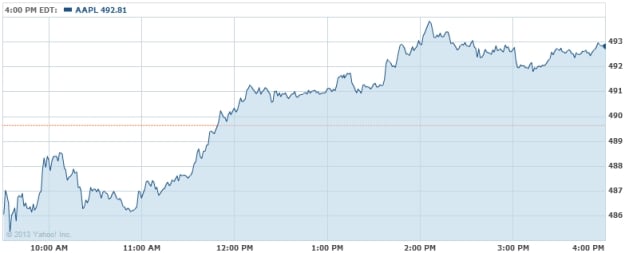 Follow Nathanael on Twitter (@ArnoldEtan_WSCS)
Don't Miss: Could the Government Shutdown Delay Your Next Smartphone?