Is the Brazilian iPhone Finally Apple's?

Apple (NASDAQ:AAPL) has acquired the right to use the iPhone name in Brazil after a judge ruled against a local company that had earlier been granted exclusive rights to the iPhone trademark in that country, reports CNET. However, according to the judge's ruling, Apple must still share the iPhone name with IGB Eletronica in Brazil.
The judge called Apple's iPhone a "world renowned" product and noted that not allowing the Cupertino-based company to use the name in Brazil would be unfair since "all the product's renown and client following have been built on its performance and excellence as a product," reports AFP.
IGB Eletronica originally filed a trademark claim on the iPhone name for its Gradiente brand in 2000, seven years before Apple launched the first of its iPhone models. After being granted the "iphone" trademark in 2008, IGB waited until 2012 to launch its own line of Android-powered "iphones."
In February of this year, the INPI (Brazilian Industrial Property Institute) granted IGB the exclusive rights to the trademark in Brazil. After losing the right to use the iPhone trademark in Brazil, Apple switched from the "stick" to the "carrot" approach and was reportedly trying to pay IGB for the national trademark rights to the iPhone name.
However, after failing to reach an agreement, Apple apparently returned to the courts. Despite this victory, the matter may not be completely settled yet. According to BNAmericas, IGB has said that it will appeal the judge's decision.
Here's how Apple traded on Friday.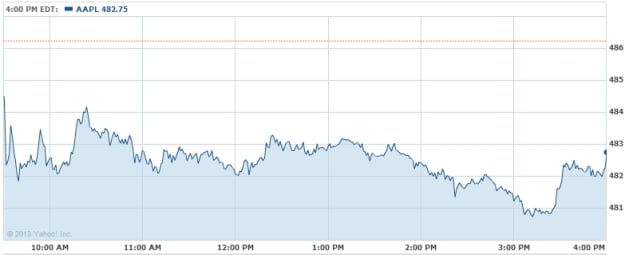 Follow Nathanael on Twitter (@ArnoldEtan_WSCS)
Don't Miss: Here Are the U.S. Cities With the Most New iPhones.