Is the iPhone Driving All Smartphone Sales Growth?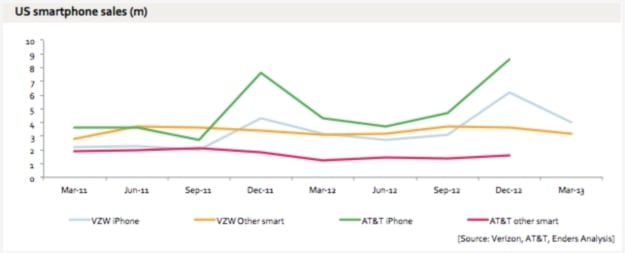 New smartphone sales statistics from two of the biggest carriers suggest that Apple's (NASDAQ:AAPL) iPhone is the driving force behind smartphone sales growth. In contrast to the flat sales of Android-powered devices, Apple's iOS-based devices show significant jumps in sales when new iterations of the iPhone debut, reports analyst Benedict Evans. Sales of Apple's iOS-based iPhones showed significant increases after the debut of the iPhone 4S in 2011 and the iPhone 5 in 2012.
After examining the sales data from AT&T and Verizon over the past two years, Evans notes that "there's near-zero seasonality in Android phone sales." In other words, people tend to purchase a device that uses Google's (NASDAQ:GOOG) Android platform because it is the default choice for a cheaper phone, not because the newest iteration of an Android device offers desirable features.
The iPhone also appears to appeal to completely different consumer than the typical Android purchaser, reports Evans. Quarters in which a new iPhone is launched seem to have no effect on Android sales in those same quarters. This would seem to demonstrate that iPhone consumers are genuinely excited about the newest generation of iPhone, whereas Android consumers tend to buy whatever is available, without being influenced by the latest launch of an Android-based device.
Buyer surveys cited by Apple Insider also demonstrate that many consumers view Android-based devices as "training" smartphones that they will eventually replace with an iPhone. Evans theorizes that a steady "churn" between first-time smartphone buyers that buy an Android device are replacing the Android users that are upgrading to an iPhone, which helps keep the number of Android purchases level.
Apple shares closed up 0.37 percent at $392.05 on Thursday. Google closed up 1.29 percent at $765.91.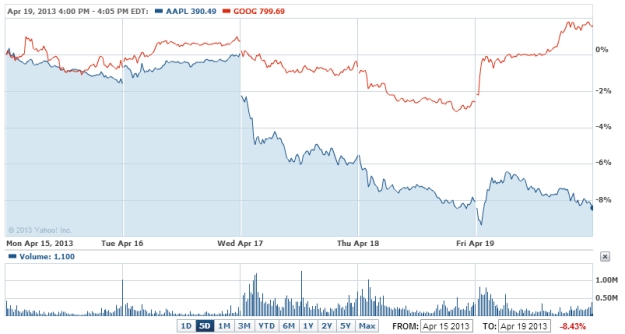 Don't Miss: For Apple, Good is Not Good Enough.