Is the iPhone Dying Abroad?
Apple's (NASDAQ:AAPL) iPhone continues to be mighty in the U.S., but its growth internationally is slowing, an analysis by Raymond James analyst Tavis McCourt has found.
According to McCourt's calculations, combined fourth-quarter iPhone sales at AT&T (NYSE:T) and Verizon (NYSE:VZ) were up 25 percent to 14.8 million units, while all other smartphone sales declined by 2 percent at the two carriers. From a market share basis, Apple took 74 percent share of smartphones at these two carriers against 69 percent a year ago. "Assuming modest success at Sprint (NYSE:S)," the analyst said iPhone sell-through estimate outside of the U.S. could be put at 29.2 million. This would represent a 35 percent year-over-year growth, or a deceleration from the 40 percent growth of the third quarter.
McCourt charts historical and possible sell-through international growth of the iPhone: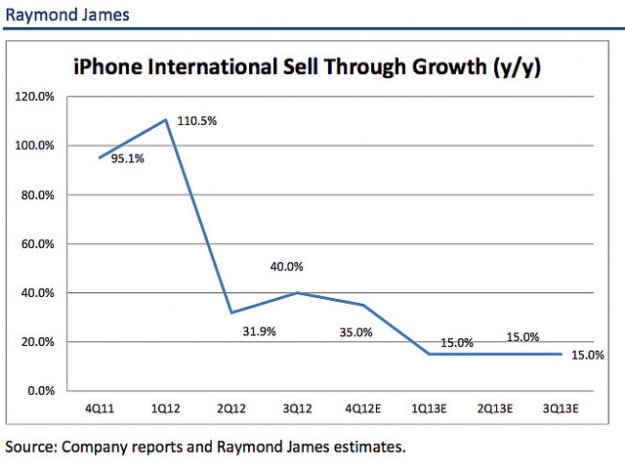 In addition, much of the growth internationally came from the fact that iPhone 5 launches occurred far earlier this year in most countries than last year's iPhone 4S launches. That would mean that the March quarter will be a tougher comparison and the analyst expects international sell through growth to slow further. "Based on guidance, we expect international growth of iPhones to fall to 15 percent in March and stay at that level unless new iPhone models are launched earlier this year," McCourt wrote in a research note.
The analyst also expressed relief that AT&T did not report its earnings results ahead of Apple as its 8.6 million iPhone sales number, which was 1.2 million higher than the Raymond James forecast, would have prompted the firm to raise its rating on the latter.
"However, with this data point, two things become abundantly clear," the analyst concluded. "First, Apple is dominating the U.S. smartphone market, and second, international growth is slowing dramatically."
Here's how shares of Apple (NASDAQ:AAPL) traded technically to finish the rough week: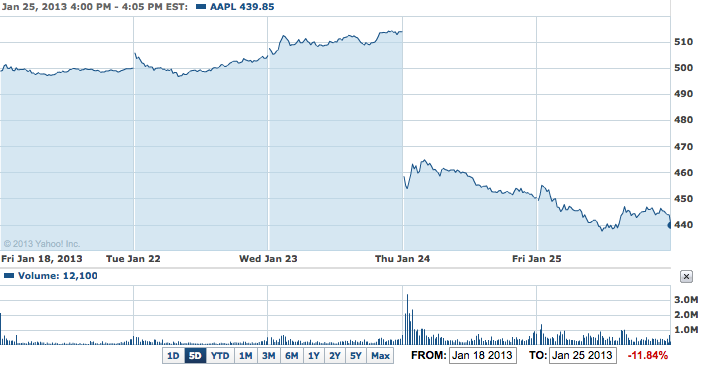 Don't Miss: Apple Has Been Bested.