Is the Smartphone Market Really Slowing Down?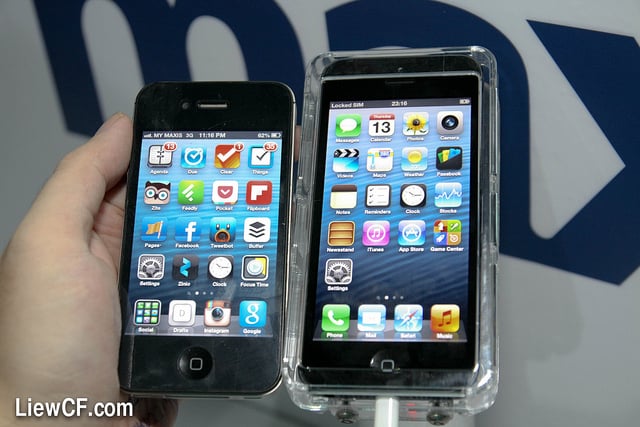 Many analysts and research firms have noted that the smartphone market appears to be reaching saturation. According to eMarketer, smartphone adoption among mobile phone users tipped past 50 percent in six major developed markets at the end of 2012.
The most recent data from market research firm comScore notes that 141 million people in the U.S. owned smartphones in the three-month period that ended in May — 59 percent mobile market penetration.
Since so many mobile phone users have already switched to smartphones, the conventional wisdom is that the overall market will begin to slow down and that major smartphone makers like Samsung (SSNLF.PK) and Apple (NASDAQ:AAPL) will take a hit as the market shifts to low-end devices with lower profit margins. According to UBS analysts cited by The Wall Street Journal, the rate at which U.S. mobile phone users upgrade their devices has declined by 9 percent this year.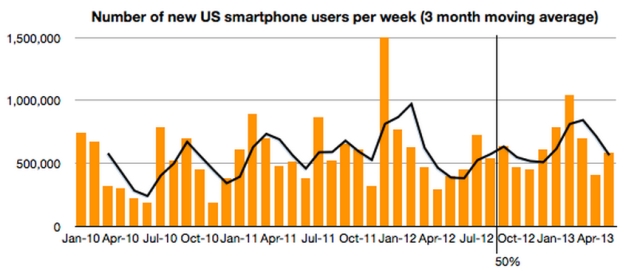 However, Apple analyst Horace Dediu is not sure this is evidence of an overall slowdown in market slowdown. He notes that comScore's data also shows that 98 million U.S. mobile phone users above the age of 13 still don't use a smartphone as their primary phone.
In fact, the rate at which mobile phone users are switching to smartphones doesn't appear to be slowing down. On the contrary, Dediu points out in an Asymco note that the number of people switching to smartphones in the three-month period that ended in May actually increased by 2.5 million over the last three-month period.
Despite the 59 percent U.S. mobile market penetration, Dediu notes that there seems to be no slowdown in smartphone adoption rates. "So not only is there no saturation, but there is no slowing of adoption of smartphones in the US, the most penetrated large market," Dediu said in his report.
Follow Nathanael on Twitter (@ArnoldEtan_WSCS)
Don't Miss: Are These Weakening Apple Products Okay to Overlook?