Is the U.S. Government Giving Apple Shoddy Treatment?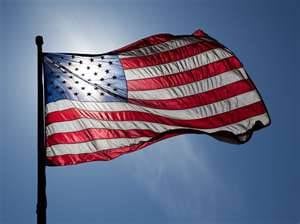 Is Apple (NASDAQ:AAPL) being unfairly targeted by its own government? Apple and various departments of the U.S. government have been sharing some news headlines lately, and it's not for good reasons.
First, the U.S. Department of Justice is proceeding with an antitrust lawsuit against Apple that alleges the company conspired with publishers to price-fix e-books. The trial is scheduled to begin June 3 in the District Court for the Southern District of New York. The government believes Apple started a price-fixing conspiracy with five other publishers in order to challenge Amazon's (NASDAQ:AMZN) dominance of the e-book market through its strategy of selling newly released e-books for $9.99. Apple maintains that the DoJ is deliberately distorting evidence and points out that the average e-book price has fallen 63 cents since Apple entered the market.
On another front, the Senate Permanent Subcommittee on Investigations has summoned CEO Tim Cook to appear before a hearing that is looking into Apple's offshore tax practices. Apple recently funded its capital return plan with U.S.-based debt rather than repatriating its overseas cash. According to Moody's Investment Services, this saved the Cupertino-based company $9.2 billion in taxes. The hearing is scheduled for May 21.
Finally, Apple also seems to regularly get the short end of the stick from the U.S. judicial system. After being awarded $1.05 billion in damages in its patent-infringement lawsuit against Samsung (SSNLF.PK), Apple saw its original award amount reduced by U.S. District Judge Lucy Koh, who cited the jury's use of an "impermissible legal theory." Now Apple faces millions of dollars more in court costs, as it prepares for a second trial scheduled to begin March 2014 against its Korea-based rival.
Philip Elmer-DeWitt at CNN Money notes some stark contrasts between the way that Apple is treated by the U.S. government and how Samsung is treated by the South Korean government. Samsung's Chairman Lee Kun-hee was convicted by his country's judiciary for bribery and tax evasion. In both cases he received a presidential pardon.
Meanwhile, Tim Cook goes to Washington to defend his company's offshore tax policy, despite Apple paying $6 billion in federal corporate income tax in fiscal 2012. Here's how Apple has traded over the past week.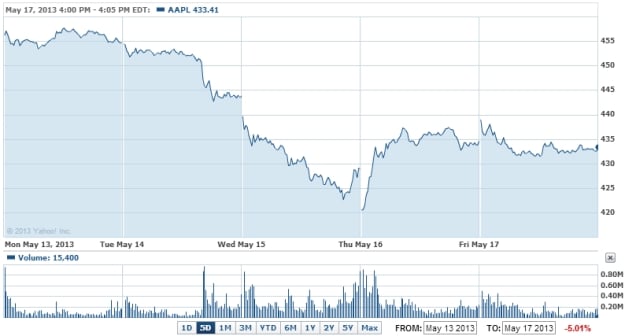 Follow Nathanael on Twitter (@ArnoldEtan_WSCS)
Don't Miss: Smartphone and GPS Map Wars Heat Up For Apple.