Is There Actually a Surplus of Apple's iPhone 5C?

Did Apple (NASDAQ:AAPL) overstock the iPhone 5C? Although Apple sold out of all variations of the iPhone 5S less than 48 hours after it launched, some analysts believe that the company may have overestimated the demand for the lower-cost iPhone 5C.
As reported by Fortune's Philip Elmer-DeWitt, BTIG Research analyst Walter Piecyk recently conducted an informal survey of several carriers' stores in order to discover if there really was a surplus supply of iPhone 5C models. According to Piecyk, AT&T (NYSE:T) reported having every color and version of the iPhone 5C, while Verizon (NYSE:VZ) stores appeared to have an available supply of most colors of the 16GB version. Sprint (NYSE:S) seemed to have a minor shortage of iPhone 5C models with some stores giving waiting periods of up to two weeks for the yellow 16GB iPhone 5C.
While Piecyk observed that, "There are no real conclusions that you can draw from these calls," he also noted that none of the stores were ready to assure him that they had plenty of iPhone 5C inventory. This contrasts with the views of some analysts such as Piper Jaffray's Gene Munster.
Munster originally estimated that Apple would only sell around 5.5 million units over the opening weekend and told Bloomberg TV that, "when I saw the 9 million number I basically fell out of my chair."  However, Munster believes that Apple's 9 million units includes "channel fill of the 5C" to the tune of 3.5 million units.
In other words, Apple may have sold 9 million iPhones to its retail partners, but only 5.5 million of those iPhones have actually been sold to customers. Since Apple has already confirmed that, "demand for iPhone 5S has exceeded the initial supply," Munster is suggesting that Apple's retail partners have an unsold surplus of iPhone 5C models.
Although it is still unclear how many of each of the new iPhone models Apple actually sold, data from mobile app analytics firm Localytics shows that Apples iPhone 5S was 2.9 times more popular than the iPhone 5C based on phone activations up until September 26.  Here's how Apple traded on Friday.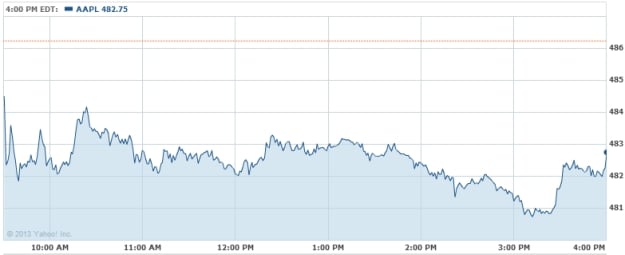 Follow Nathanael on Twitter (@ArnoldEtan_WSCS)
Don't Miss: Analyst: Apple May Start 2014 With a Flop.