Late Monday, video game maker Electronic Arts (NASDAQ:ERTS) announced that it sold 5 million copies of its highly anticipated Battlefield 3 video game.  In fact, heavy demand for the game's online play caused server disruptions.  Next week, competitor Activision (NASDAQ:ATVI) launches its latest version of Call of Duty, called Modern Warefare 3.  The release of the hot first-person shooters should help revive the struggling video game industry, and give a boost to Microsoft (NASDAQ:MSFT) and Sony (NYSE:SNE).
Investing Insights: Here's Why Investors Should Not Compare Coinstar to Netflix.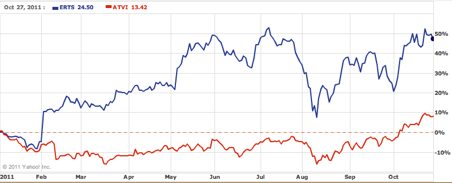 Other video game industry names are relying on other ways to attract customers.  To help compete with the Apple (NASDAQ:AAPL) and Amazon (NASDAQ:AMZN) tablet craze, video game retailer GameStop (NYSE:GME) is dipping its toes into the tablet market.  The WSJ reports that the company plans to begin selling tablets based on Google's (NASDAQ:GOOG) Android mobile operating system during the holiday season at 200 of its US stores on Friday. "Customers have been telling us that they like to game on multiple devices," said J. Paul Raines, GameStop's chief executive.  "We believe there is a gaming opportunity on tablets."
Super Hot Feature: Witness the Mind Blowing Future According to Microsoft.