Is This an Early Glimpse of Apple's iOS 7?
Apple's (NASDAQ:AAPL) official site recently gave developers an early preview of some of the design changes that have been implemented in iOS 7. Yesterday, developers began reporting that the usual round-corner application icon squares had been updated with regular sharp-cornered square icons. This may be a confirmation of the rumors about Apple's newest version of its mobile operating system, which has been described by 9to5Mac as "black, white, and flat all over."
Although developers have always uploaded their application icons as regular, sharp-edged squares, Apple usually alters the icons to give them a rounded appearance. Although the round-corner icon design invoked Apple's iPad shape, it also contained some skeuomorphic shadow and gloss effects. In this sense, the removal of the icons with the rounded corners is part of Apple's overall redesign strategy that is removing any overtly skeuomorphic design elements.
Apple Insider notes that these rumored iOS 7 changes are also supported by Apple's recently released app for the upcoming Worldwide Developers Conference. This year's app also features a decidedly "flatter" appearance than the previous years' apps.
It has already been widely reported that Jonathan Ive — the Senior Vice President of Industrial Design at Apple — is now also in charge of Apple's human interface design. Ive has been pushing to remove the skeuomorphic design elements that have long been a part of iOS. Ive's design philosophy is vastly different from Apple's previous software design leader, Scott Forstall, who was ousted in 2012 over Apple's failed Maps app launch.
Forstall was an advocate for the skeuomorphic design approach in Apple's operating system, which emphasizes realistic images that resemble their counterparts in the real world. Ive is leading a redesign effort that will strip the "glitz" off of Forstall's software design and replace it with a user interface that more closely meshes with Apple's minimalist hardware design. Although some have hailed the iOS 7 redesign as long overdue, others have criticized the new look as being too similar to Microsoft's (NASDAQ:MSFT) Windows Phone mobile operating system.
Apple has already announced that it will be unveiling its latest version of iOS at the WWDC that starts June 10 in San Francisco. The WWDC will kick off with a keynote address at San Francisco's Moscone Center. The conference runs through Friday, June 14. Here's how Apple has been trading so far this week.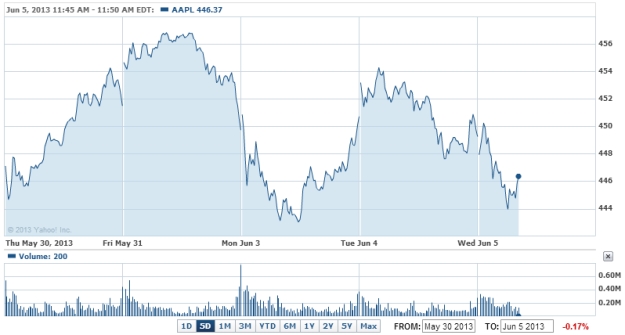 Here's how Apple traded on Wednesday: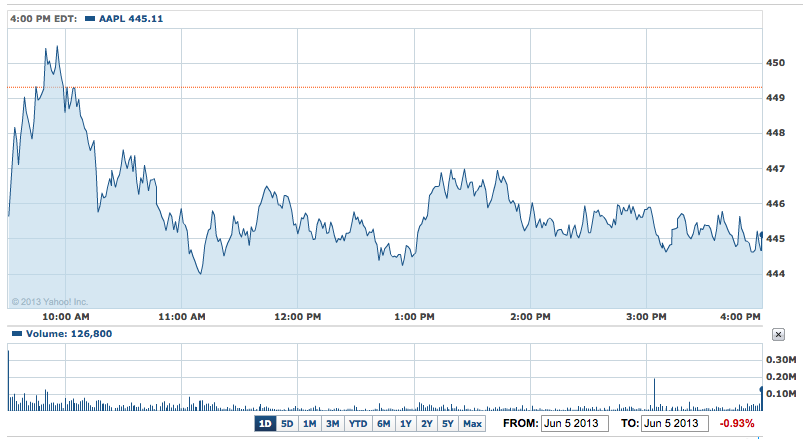 Follow Nathanael on Twitter (@ArnoldEtan_WSCS)
Don't Miss: Will This E-Book Trial Testimony Help or Hurt Apple?