Is This Microsoft's Answer to Apple's Siri?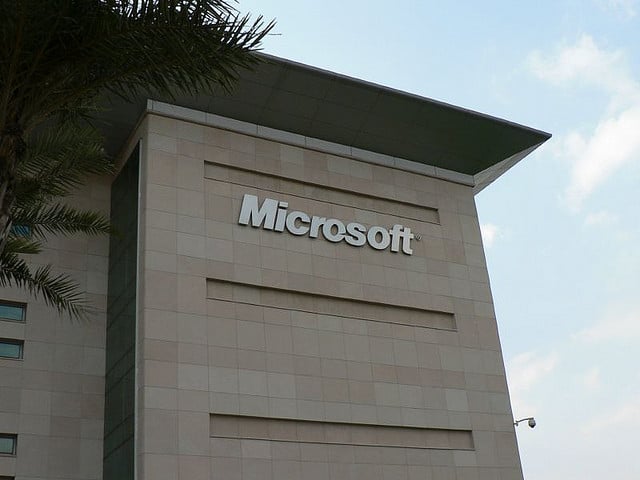 Is Microsoft (NASDAQ:MSFT) developing its own version of Apple's (NASDAQ:AAPL) Siri? The Windows Phone maker is currently testing a personal digital assistant called "Cortana," according to a new report from ZDNet's Mary Jo Foley.
The name Cortana is derived from an artificial intelligence character in Microsoft's highly successful Halo video game series. Similar to the voice-activated personal assistants developed by Apple and Google (NASDAQ:GOOG), Cortana will be capable of understanding users' natural-language queries.
Although the current Windows Phone user interface already allows basic voice commands, Microsoft says Cortana will be able to intelligently learn and adapt to a user's particular preferences. Cortana will be powered by Bing's Satori knowledge base, similar to the way that Siri is powered by Wolfram Alpha.
The first hints about Cortana's existence emerged in a Microsoft memo penned by CEO Steve Ballmer in July. In the note, Ballmer discusses a "service-enabled shell" that "will be deeply personalized, based on the advanced, almost magical, intelligence in our cloud that learns more and more over time about people and the world."
Siri — which was originally released by Apple in 2011 — was seen as a revolutionary step forward in human-computer interaction. However, since then, various other personal digital assistants have been developed and released. Google Now was released by Google the year following Siri's release. According to ZDNet, Microsoft will likely have Cortana ready when it releases the 8.1 version of Windows Phone in early 2014.
Microsoft is likely hoping that the addition of Cortana will help to boost its share of the smartphone operating system market. According to the latest smartphone market data from comScore's (NASDAQ:SCOR) MobiLens service, Microsoft's Windows Phone mobile OS had a 3.1 percent share of the U.S. mobile operating system market in June. On the other hand, Apple's iOS accounted for a 39.9 percent share of the market during the same period.
Here's how Apple and Microsoft have traded over the past five days.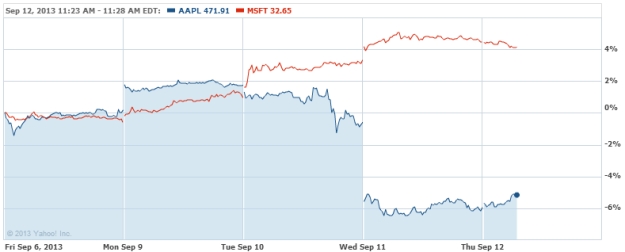 Follow Nathanael on Twitter @ArnoldEtan_WSCS
Don't Miss: Is Everyone Wrong on the Apple Pessimism?