Is Time Working Against Apple in the Samsung Patent Trials?
Apple (NASDAQ:AAPL) has filed an objection to a judge's ruling that a second Samsung trial scheduled for March 2014 be put on hold until the appeals process from the first trial is exhausted. The trial is investigating possible patent violations by the Korean company.
As reported by Bloomberg, Apple stated in its objection: "This case must proceed now, in order to stop the ongoing sales — and relentless launch — of Samsung's latest infringing devices, which have caused, and every day continue to cause, continuing harm to Apple."
Is Apple now a once-in-a-decade buying opportunity? Click here to get your 24-page Ultimate Cheat Sheet to Apple's Stock now!
In other words, Apple fears that by the time the second trial finally gets underway, Samsung will have already installed the technologies that it allegedly pilfered from Apple in new devices and will continue to profit from their sale as the patent case languishes in legal purgatory. The delayed patent trial that was originally scheduled for March 2014 would have covered patent violations allegedly made by Samsung in its Galaxy S III device. Samsung's Galaxy S4 device is scheduled for release on March 14.
Earlier this month, Judge Lucy Koh reduced the $1.05 billion damages award given to Apple in the August 2012 trial by $450.5 million when it was discovered that the jury based its award amount on an "impermissible legal theory"…
Samsung agreed with the judge's decision to halt the second trial during the appeals process for the first trial, saying the ruling will "promote judicial economy," and "allow the parties to attempt to reach a business resolution of their disputes."
The stock market is roaring back in 2013. Click here now to discover winning stocks!
The chart below shows Apple stock prices since its original August 2012 court victory and the subsequent reduction in the damages award that happened earlier this month.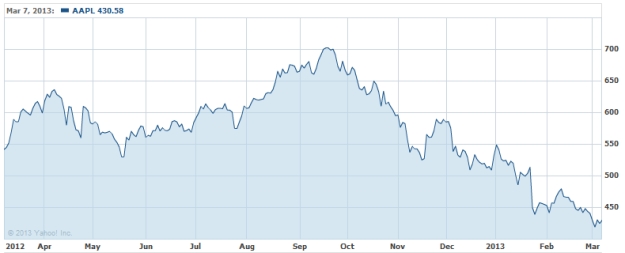 Don't Miss: Apple Still Dominates This Market.