Is Wal-Mart Endangering Apple's Pricing Schemes?

While it should come as no surprise that Wal-Mart (NYSE:WMT) typically features cheaper prices than its rivals on many products, the retail giant's prices for the latest iPhone models has some industry watchers scratching their heads. Walmart is selling the 16GB iPhone 5C for $79 and the 16GB iPhone 5S for $189 if customers sign-up for a two-year service contract, reports SFGate.
On the other hand, Apple (NASDAQ:AAPL) and its retail partners start their iPhone 5C prices at $99 and their iPhone 5S prices at $199. This means that Wal-Mart is selling the iPhone 5C for 20 percent less than any other retailer. Similarly, Wal-Mart's iPhone 5S price is $10 less than competitors' prices.
Although Apple can't force retailers to sell its devices at a certain price, Kyle Stock at SFGate notes that the Cupertino-based company does provide some fairly strong incentives for retailers to abide by the standard sticker price. For example, Apple offers retailers a financial marketing incentive if device prices are kept above a certain level.
Another way Apple maintains a standard price level is by giving retailers very little wiggle room for a profit. SFGate's report suggests that some retailers buy Apple's devices for only 5 percent below the retail selling price. Since the profit margins are razor-thin to begin with, most retailers are not willing to discount Apple's devices beyond the suggested retail price.
This has led some commentators to speculate on how Wal-Mart is able to sell Apple's latest smartphones below the suggested retail prices. One possibility is that Wal-Mart cut a special deal with Apple that allows the discount retailer to offer the iPhone to low-income buyers that would otherwise not purchase Apple products.
Another possibility is that Wal-Mart is taking a loss on the iPhones in order to attract customers. The retailer may be expecting customers that buy an iPhone below cost will also buy another product that will offset the loss. However, a Wal-Mart spokesperson via SFGate insisted that the company will be making a profit on each iPhone sale.
Apple's iPhone 5C and iPhone 5S will hit store shelves on September 20. Here's how Apple closed out the trading week.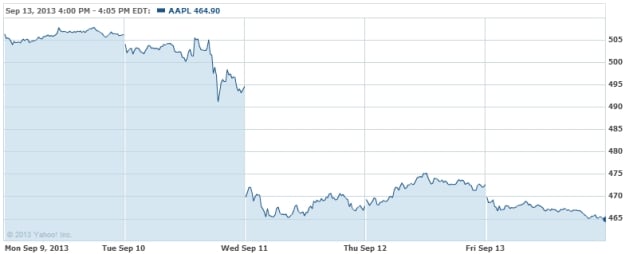 Don't Miss: Here's More Apple-Google Patent-Infringement Drama.
Follow Nathanael on Twitter (@ArnoldEtan_WSCS)