ISS to Apple Shareholders: Vote 'No' on Icahn's Proposal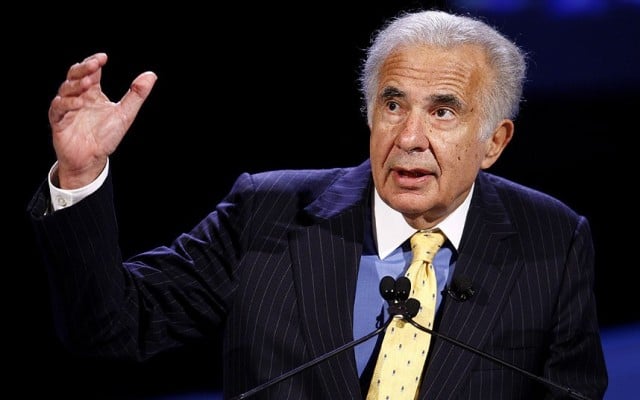 Another proxy advisory firm has come out against Carl Icahn's proposal to expand Apple's (NASDAQ:AAPL) share repurchase program by another $50 billion. Institutional Shareholder Services Inc., or ISS, has advised Apple investors to vote against Icahn's non-binding "Proposal No. 10," reports Reuters. Last week, proxy advisory firm Egan-Jones also recommended that shareholders reject Icahn's proposal.
"(The Apple board) has returned the bulk of its U.S.-generated cash to shareholders via aggressive stock buybacks and dividends payouts," wrote ISS, per Reuters. "In light of these good-faith efforts and its past stewardship, the board's latitude should not be constricted by a shareholder resolution that would micromanage the company's capital allocation process."
Apple's "good-faith efforts" were most recently demonstrated when CEO Tim Cook revealed in an interview with the Wall Street Journal that the company had repurchased $14 billion of its own shares soon after it announced its fiscal first-quarter earnings. Cook told the Journal that $12 billion of the most recently purchased shares were bought through an "accelerated" buyback program. Apple has repurchased $40 billion of its own shares over the past 12 months, including $5 billion during the last quarter.
According to Apple's preliminary Securities and Exchange Commission proxy filing, Icahn is asking the company to "commit to completing not less than $50 billion of share repurchases during Apple's fiscal year ending September 27, 2014 (and increase the amount authorized for share repurchases under its Capital Return Program accordingly)." Like ISS and Egan-Jones, Apple's board and management have also recommended that the company's shareholders vote against Icahn's proposal.
Icahn's proposal has also been opposed by other institutional investors. CalPERS (the California Public Employees' Retirement System) senior portfolio manager Anne Simpson recently criticized Icahn's investment strategy and his use of social media to pressure Apple during an appearance on CNBC. "Those who'd like to consider the long term will be talking to the company and listening to the company and having that conversation," she said. "So tweets and Twitter and Facebook postings is really megaphone diplomacy."
Most recently, Icahn tweeted what Apple's stock price would be if it was traded at the same multiple of operating profit as Google. "$GOOG @ 19×2014 est operating profit. At same multiple $AAPL=$1,245 per share. Ridiculous. Keep buying Tim! You still have $145 billion cash," said Icahn.
Icahn has been vigorously campaigning for Apple to return more cash to shareholders since August. The activist investor recently revealed that he purchased another $500 million worth of Apple shares, making his total investment in the California-based company about $3.6 billion. Apple's annual shareholder meeting is scheduled for February 28.
More from Wall St. Cheat Sheet:
Follow Nathanael on Twitter @ArnoldEtan_WSCS