iWatch Thirst: Hey Apple, the Buyers are Ready!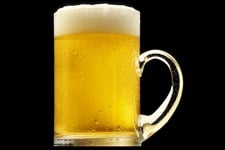 A recent survey from a technology research firm confirms what many Apple (NASDAQ:AAPL) fans already suspected — that there is already strong consumer interest in a potential smart watch product from Apple. According to a consumer research survey from 451 Research's Changewave service, 5 percent of respondents indicated that they would be "very likely" to purchase a smart watch from Apple. Another 14 percent of respondents said that they would be "somewhat likely" to purchase an "iWatch" for either themselves or someone else.
This level of consumer interest is practically identical to what Changewave discovered in a similar survey about a potential Apple tablet device that was conducted in January 2010 before the iPad was introduced. In the 2010 tablet survey, 4 percent of respondents said that they were "very likely" to purchase a tablet device from Apple and 14 percent said that they were "somewhat likely" to purchase the device. After its release, the iPad became one of Apple's most successful and iconic products, selling over 100 million units by late 2012 according to the New York Times.
Citing Changewave's survey data, Jonny Evans at Computerworld notes that 18 percent of consumers based their decision to purchase an iWatch on brand loyalty. Respondents who already own Apple devices were also five times as likely to buy an Apple smart watch.
Another 16 percent of surveyed consumers cited convenience, 14 percent cited the "Cool Factor," and 11 percent cited the potential iWatch's "ease of integration with other Apple products" as a reason for wanting to buy the device. Many analysts believe that the iWatch will function primarily as a notification device that will synch with the iPhone, iPad, or any other Apple products.
Via the ChangeWave website, Andy Golub of 451 Research states that "Apple's track record of delivering ultra-convenient, easy to use products with a perceived 'cool factor' is driving pre-release demand for the rumored Apple 'iWatch.' While an 'iWatch' doesn't yet exist — and if it ever does it will have to live up to super high expectations — it has the potential to be another huge success for the Cupertino, CA manufacturer."
Rumors of Apple's smart watch development have been around since December of last year. According to Juniper Research cited by Investor's Business Daily, the wearable technology industry will reach $1.5 billion in revenues by 2014. Last year the wearable tech industry generated sales worth $800 million, thanks to startup smart watch companies like Pebble as well as FuelBand bracelet maker Nike (NYSE:NKE).
Here's how Apple traded throughout the week.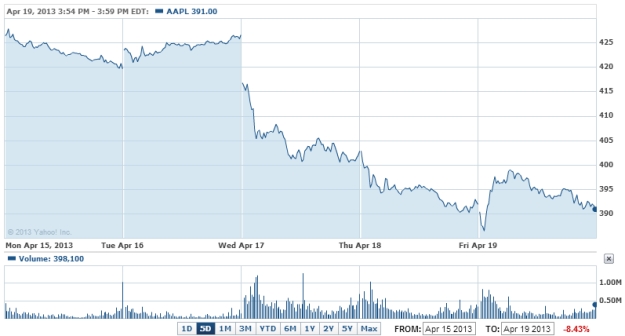 Don't Miss: Rumored iWatch Already Has Interested Customers.