J.C. Penney and Wal-Mart Slump, Amazon's New Kindles: Market Recap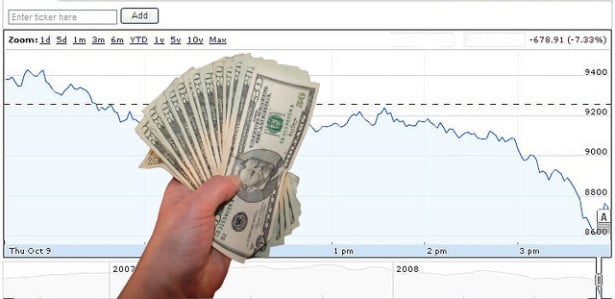 U.S. stocks fell again today as lawmakers continued to argue over the budget, leaving investors concerned about a possible government shutdown that could dampen economic growth. The S&P 500 has posted five straight days of declines, the longest slump for the index since December. Data from the Commerce Department released today showed that new home purchases increased in August and a separate government report found growth in equipment orders, but a survey from Bloomberg revealed that Americans are losing faith in economic recovery.

Gold: +1.28% to $1,333.20 per ounce Oil: -0.08% to $102.31 per barrel U.S. 10-Year: -1.47 to 2.614%
Economic Headwinds Slow Manufacturing Growth to a Crawl: Economic headwinds buffeting the U.S. manufacturing industry in July somewhat abated in August, according to an advance report from the U.S. Census Bureau. New orders for manufactured durable goods increased 0.1 percent on the month to $224.9 billion, exceeding expectations for a 0.5 percent contraction.
Here's Why America's Health Care War Is Far from Over: At 2:41 p.m. Tuesday afternoon, Republican Senator Ted Cruz of Texas began speaking on the Senate floor, announcing that, "I intend to speak against Obamacare until I am no longer able to stand." By 10 a.m. EDT on Wednesday, Republican Senator Ted Cruz of Texas had been speaking for 19 straight hours. It will be one of the last political maneuvers in the chess match playing out in Washington over the future of the health care reform.
Is the Cost of Renewable Energy Falling? The recently released Levelized Cost of Energy Analysis 7.0 from the financial advisor and asset management firm Lazard Freres & Co., shows that the levelized cost of electricity (LCOE) for wind and solar installations across the U.S. has fallen by over 50 percent in the past four years.
Housing Market Keep This Winning Streak Alive: With the help of lower interest rates, mortgage applications in the United States climbed higher for the second consecutive week. According to the Mortgage Bankers Association's latest report, for the week ended September 20, loan applications jumped 5.5 percent on a seasonally adjusted basis from one week earlier — only the fifth increase in 20 weeks.
Here's your cheat sheet to today's top stocks stories:
Amazon (NASDAQ:AMZN) unveiled its new Kindle Fire HDX tablets on Tuesday night. The new Amazon Kindle Fires are lighter, faster, more powerful, and have longer battery life than Amazon's previous models, with the intent of challenging Apple's (NASDAQ:AAPL) industry-dominating iPad.
Bank of America (NYSE:BAC) squared off against the government on Tuesday morning for the first day of a trial that is expected to last as long as four weeks. Bank of America's prosecutors, led by U.S. Attorney General for the Southern District of New York Preet Bharara, have accused Bank of America of "massive fraud" by selling bad mortgages.

J.C. Penney's (NYSE:JCP) stock hit a 13-year low of $10.22 on Wednesday. J.C. Penney's 15 percent plunge, which even took shares briefly below the $10 mark, was precipitated by two warnings. Analysts have predicted that sales did not pick up during the important back-to-school shopping season at the end of August and the beginning of September, recent reports have indicated that J.C. Penney needs to raise more cash.
Wal-Mart Stores (NYSE:WMT) is reportedly running into a little bit of retail trouble, or is it? That question is still up in the air as Bloomberg and CNBC appear to disagree over the answer. Bloomberg reported Wednesday that Wal-Mart is cutting its orders with suppliers due to inventory backlog. However, CNBC responded to that story just minutes later, claiming that the report is "completely false" according to Wal-Mart spokesman, David Tovar.
 Samsung (SSNLF.PK) has beaten rival Apple (NASDAQ:AAPL) in creating a smartphone with a curved screen. Apple filed for a patent on a device with a wraparound display back in March, but nothing has come of those plans as of yet. Samsung, however, announced Wednesday that it has created a device with a curved screen, which will be unveiled later this fall.
Burger King (NYSE:BKW) is disturbing the sanctity of the french fry. That's right. The fast food giant is taking all of the fun out of the greasy potatoes and making them healthy. According to The New York Times, Burger King now promises that its new fries, named Satisfries, have 40 percent less fat and 30 percent fewer calories than that of its rival, McDonald's (NYSE:MCD), and they will be crinkled.
Don't Miss: Hey GOP, a Government Shutdown Won't Stop Obamacare
Follow Jacqueline on Twitter @Jacqui_WSCS