Jim Cramer: What's the Word on Apple?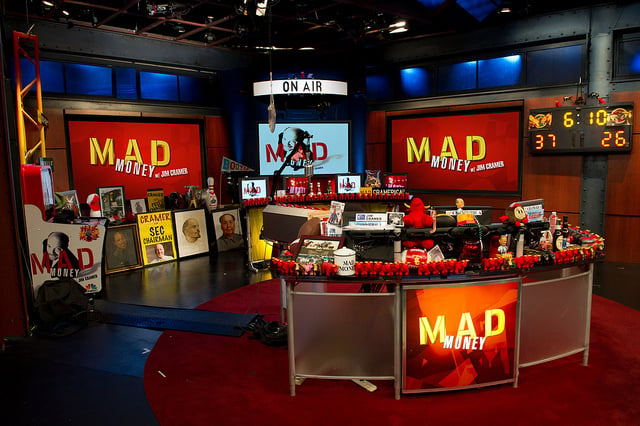 What's the word on Apple (NASDAQ:AAPL) stock? Does anyone really know? Even Jim Cramer, CNBC's host of "Mad Money," is confounded. Analysts have been eyeing Apple shares all year, taking note of a consistent rise in the last six months, but many experts now offer differing predictions as to whether Apple will continue its upward ascent or fall in the way that many other successful public companies have.
Apple has especially been in the spotlight this year ever since it launched not one, but two new smartphones in September, and did the same with the iPad in October. Couple that with an impending deal with China Mobile and you have a company that looks stronger than ever, but all analysts are not so easily convinced. CNBC reminds us that Apple shares have only risen 6 percent for the year, and the stock has been known to be volatile. Cramer posed the age-old Apple question to not one, but three stock technicians on his show, Mad Money, Tuesday night, and each expert offered his or her own opinion, supported by evidence. These experts recognize how valuable past chart patterns can be to effective tech analysis and they all employed their own strategy in some way.
First up was an analysis from Bob Lang, the founder and senior strategist at ExplosiveOptions.net. Lang made his Apple forecast based on the moving average convergence divergence indicator, and explained that with the Cupertino, California-based tech giant, technical analysis would forecast that Apple will enjoy a stock gain into the end of the year. This is because the MACD has been in positive territory since Apple shares started rising in September, and it just made a bullish crossover. The relative strength index is in positive territory, suggesting that Apple has enough momentum to regain its position as a market leader.
Next up was Tim Collins, a man who works alongside Cramer at RealMoney.com. Collins mostly shared Cramer's sentiments, and explained that Apple could be forming a cup and handle formation, or a bullish chart pattern that is defined by a chart where a stock drops in value, then rises back up to the original value, and continues the pattern. Technicians often rely on this form of measurement, and Collins says that if Apple can form the handle between $550 and $600, then a breach of $600 could indicate long-term progress, and lead Apple to $900 in 2015.
Lastly, Cramer tapped Carolyn Boroden of FibonacciQueen.com for her insight. Boroden said that she is keeping her eye on what Apple stock does around $575 before she makes any conclusions. Why? Because $575 is the Fibonacci level that represents the 61.8 percent retracement of the swing from Apple's September 2012 high to its April 2013 low. Last Thursday, Apple neared the level, but pulled back 15 points, and now the next time it treads near $575, it will represent a big forecast for shareholders. If Apple can break $575, its pattern will be considered bullish, whereas if it falls, a bearish pattern will follow.
Following the advice from technicians, Cramer joined the bull side of the equation for Apple, and maintained, "I am a bull on Apple. My charitable trust owns it, and while I can't time the next leg of the rally, I think the next products and the Chinese sales efforts are going to give Apple a very happy holiday season, not to mention a strong 2014, which makes me think this stock is just too cheap not to own."
Don't Miss: Apple Steals Radio Exec From Cumulus Media.