'Jobs' Movie: Hit or Miss?
The long-awaited trailer for the Steve Jobs biopic has finally been released. The film is directed by Joshua Michael Stern and features Ashton Kutcher in the role of Apple (NASDAQ:AAPL) co-founder Steve Jobs. The film also features Josh Gad as fellow Apple co-founder Steve Wozniak, otherwise known as "The Woz."
So is the film a hit or a miss? It depends on your perspective. Some of the scenes portrayed in the trailer — such as the one showing Jobs being fired by Apple's board — never actually happened. In reality, Jobs quit Apple after being transferred to Apple's research division.
Is Apple now a once-in-a-decade buying opportunity? Click here to get your 24-page Ultimate Cheat Sheet to Apple's Stock now!
However, this is admittedly less exciting than portraying a dramatic standoff in a boardroom, which is probably why the director decided to take some creative liberties with the story. In other words, people that are expecting to get an accurate retelling of Steve Jobs's life story might end up throwing popcorn at the screen, but viewers looking for an entertaining yarn might enjoy the film.
Steve Wozniak is one viewer who is most likely to fall into the former category of viewers. The Apple co-founder expressed his displeasure at the film's inaccuracies in a comment posted on Gizmodo.
"Not close…we never had such interaction and roles…I'm not even sure what it's getting at…personalities are very wrong although mine is closer…don't forget that my purpose was inspired by the values of the Homebrew Computer Club along with ideas of the value of such machines and Steve J. wasn't around and didn't attend the club so he was the one learning about such social impact of the future," wrote Wozniak.
NEW! Discover a new stock idea each week for less than the cost of 1 trade. CLICK HERE for your Weekly Stock Cheat Sheets NOW!
"Jobs" is rated PG-13 and will hit theaters on August 16. Here's how Apple closed out on Friday.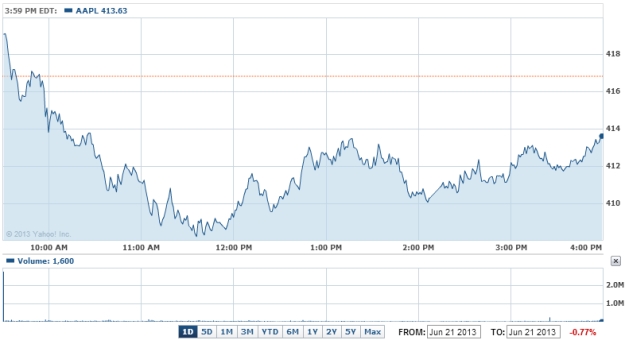 Follow Nathanael on Twitter (@ArnoldEtan_WSCS)
Don't Miss: 5 Reasons Apple Is Owning the E-Book Trial Now.