John Chen Picks New Executive to Join the Blackberry Camp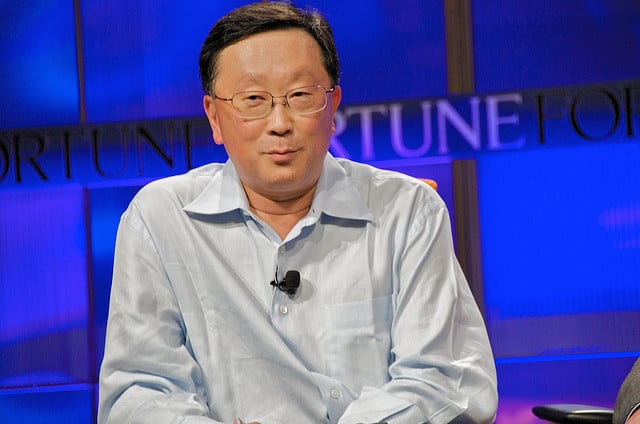 BlackBerry (NASDAQ:BBRY) CEO John Chen will take the podium on Friday once his company releases its latest quarterly results, and it's safe to say that the chief executive has a lot to address. For one, investors are hoping Chen will provide more details about his vision for a BlackBerry turnaround, and they'll also likely want to know why he has been so resistant to letting the company's hardware business go free.
If BlackBerry's struggles in the past are any indication, it's clear that the success of the once-popular tech company has been eclipsed by the rise of rivals like Apple (NASDAQ:AAPL) and Samsung (SSNLF.PK). Chen has been holding on to Blackberry's smartphone business for dear life, and investors are hoping that he has some solid reasoning behind that decision.
Bloomberg reports that Chen has already orchestrated several executive overturns as part of his turnaround plan. The latest appointment came Tuesday, when Chen named John Sims the head of BlackBerry's global enterprise services business. Reuters reports that Sims previously worked at software giant SAP AP as the company's president of its mobile services business, but now the executive's help has been enlisted by Chen, Sims will head a new key segment that speculators say is the core of Chen's turnaround vision.
Chen says Sims' expertise in revamping businesses will help the executive do the same at BlackBerry. The beleaguered smartphone maker once thrived in the phone business thanks to its reliable email servers, but now its major client base — that of political and business leaders — has switched its loyalties to competitors like Apple and Samsung. BlackBerry has no choice but to launch a new enterprise service platform, which Chen plans to do.
Reuters reports that BlackBerry will still focus on the enterprise market in the new year and rebuild itself as a niche player focused only on appealing to a narrow group of large government and corporate clients. Chen is apparently counting on its new BlackBerry Enterprise Service 10 platform — a service that allow clients to manage BlackBerry, Android, and iOS-based devices on their internal networks — to reignite interest in the BlackBerry brand and prove that the company can find its niche, even if it means catering to clients who use devices made by Blackberry's competitors.
Investors have seemed open to such a plan, but some still are questioning why Chen continues to hold on to BlackBerry's hardware business, just as former CEO Thorsten Heins did. The failure of BlackBerry's latest phone launches in June and September show that many consumers believe the BlackBerry ship has sailed. Although Chen has acknowledged that "BlackBerry devices are not for everyone," he maintained in an open letter on December 2 — seen by Bloomberg – that smartphones will continue to be a focus of BlackBerry's business.
As for Friday, analysts expect BlackBerry to report sales of $1.58 billion and a loss of 45 cents per share. The last time the company released earnings, BlackBerry took a write-down of almost $1 billion in September for unsold Z10s and reported a 45 percent decline in year-over-year sales to $1.57 billion.
Don't Miss: Higher App Revenues a Welcome Sign for Apple.