Jon Stewart Chews On Apple Tax Hearing
Comedy icon Jon Stewart focused his satirical wit on Apple (NASDAQ:AAPL) this week as he poked fun at CEO Tim Cook's appearance at a Senate hearing that was ostensibly about the company's questionable offshore tax havens. Although Cook was supposedly going to get a tough grilling from senators that were outraged over Apple's tax schemes, Stewart was quick to point out that the hearing was anything but hostile.
However, first Stewart gave a quick nod to another Apple issue that is probably of greater concern to most Apple users. In a fit of mock-righteous anger, Stewart declared "Finally — some accountability for Apple Maps!"
Then, using the patented "Daily Show" ironic video montage, Stewart gave his audience a sample of some of the fawning pro-Apple statements that many senators made during the hearing. Senator Claire McCaskill announced, "I have harassed my husband until he converted to a MacBook. I love Apple. I love Apple."
Senator Carl Levin was similarly effusive with his praise. "We love the iPhone and the iPad. I got one right here," he said. In response, Stewart wondered aloud, "What is the opposite of a Genius Bar?"
Stewart then mocked the senators who politely asked Cook what he thought the corporate tax rate should be. "How about we pay for the inconvenience of having to keep your money overseas?" asked Stewart.
Finally Stewart turned his attention to Cook's own tax code reform suggestions. "Apple has always believed in the simple," stated Cook, "not the complex." After he suggested that Cook's proposed tax reforms be dubbed the "tax code nano," the "Daily Show" host noted that the primary reason why the tax code is so complicated today is because corporations made it that way.
As Stewart sees it, the corporations are the ones that lobbied to have all the complex loopholes and credits installed in the current tax code in order for them to get the sort of tax benefits that Apple is currently enjoying on its overseas profits. Stewart noted that "those offshore loopholes didn't get carved out by poor people."
Here's how Apple stock has traded so far this week.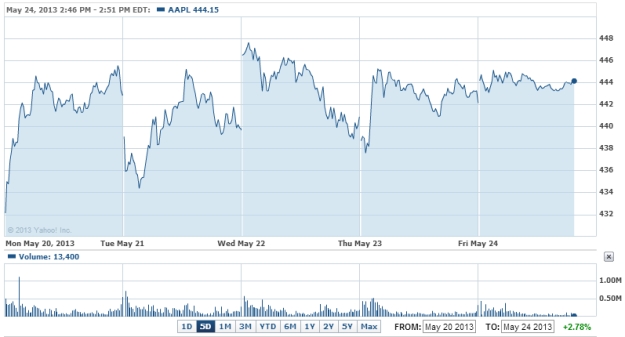 Follow Nathanael on Twitter (@ArnoldEtan_WSCS)
Don't Miss: More iOS 7 Redesign Clues Emerge.