JPMorgan Reaches Settlement with DoJ, Best Buy Plunges: Market Recap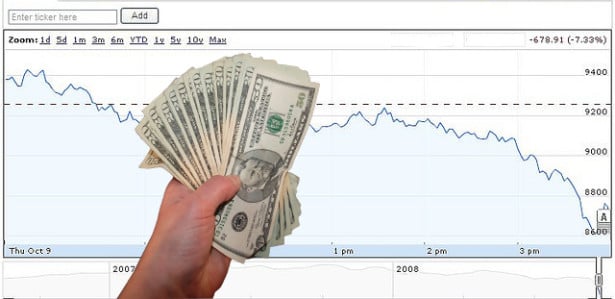 U.S. stocks fell during trading on Tuesday as investors waited on a speech from Federal Reserve Chair Ben Bernanke later this evening. The Organization for Economic Cooperation and Development cut forecasts for global economic growth in a report released on Tuesday. Investors are also waiting for the minutes from the Fed's October policy meeting to be released on Wednesday, which will reveal why the Fed decided to keep its current rate of bond purchases and perhaps give more clues as to when the central bank will begin cutting stimulus.

Gold: +0.13% to $1,274 per ounce; Oil: +0.31% to $93.97 per barrel; U.S. 10-Year: +1.27 to 2.712%.
Fresh Market Records: Are Dow 20,000 and S&P 2,000 Next?: On Monday, the Dow Jones Industrial Average broke 16,000 for the first time ever, and the S&P 500 index hit 1,800, a 26 percent gain on the year and an all-time nominal high (the S&P 500 index broke 2,000 in real terms in August 2000). By the close of trading, the indexes retreated from their intra-day highs, but the inevitable question of "What's next?" had already taken hold… (Read more.)
The Fed Is in Focus, But Inflation Is Going Nowhere Fast: Outside of the uncertain direction of fiscal policy in the United States, the big question on the mind of most traders, investors, and economists has to do with monetary policy. Through its ongoing program of quantitative easing, in which it is purchasing $85 billion worth of agency mortgage-backed securities and longer-term securities each month, the U.S. Federal Reserve is pouring liquidity into the market in the form of low-cost credit… (Read more.)
Here Is Why Emerging Countries Are Projected to Grow Slower: The Organization for Economic Cooperation and Development has cut its forecasts for economic growth in several places across the world, Bloomberg reports. The group reported that global economic growth will average 2.7 percent this year and 3.6 percent next year. This is up from the 3.1 percent for 2013 and 4 percent for 2014, numbers that the organization last promulgated in May. The downgrade brings the OECD in line with other international organizations… (Read more.)
Here's your cheat sheet to Tuesday's top stories.
Google Inc. (NASDAQ:GOOG) will pay $17 million in fines to 37 states because it illegally installed cookies on Safari Web browsers, The Telegraph reports. The issue at hand arose when it was uncovered that Google was running cookies — small programs that transmit information about a user's activities — on computers that were running Safari. Though Safari, Apple Inc.'s (NASDAQ:AAPL) primary Web browser, is designed to block cookies, Google used a series of coding techniques to overcome the blocks, thereby tracking Safari users and gathering information about their Internet habits… (Read more.)
Best Buy Co. (NYSE:BBY) shares closed down close to 11 percent on Tuesday after the company posted third-quarter earnings this morning that came in line with estimates but hinted that aggressive pricing during the holiday season could be a drag on fourth-quarter results. Best Buy's quarterly results showed a profit of $54 million, or 16 cents per share, up from last year's loss of 3 cents per share, or $10 million. Revenue was down slightly from $9.38 billion to $9.36 billion… (Read more.)
The Home Depot (NYSE:HD) posted third-quarter earnings that beat analyst estimates and caused the company to raise its full-year forecast. Home Depot's revenue grew 7.4 percent to $19.5 billion and net income rose 43 percent to $1.35 billion, up from $947 million a year ago. Home Depot's shares closed up slightly on Tuesday afternoon in the wake of the better-than-expected earnings report, which was boosted by an improving housing market… (Read more.)
JPMorgan Chase & Co. (NYSE:JPM) and the U.S. Department of Justice have reportedly reached an agreement in their pending $13 billion settlement. One person familiar with the matter told CBS that the settlement ends any civil litigation, but the criminal investigation in California can continue. The federal government has been probing JPMorgan over its sale of mortgage-backed securities leading up to the financial crisis. The bank, meanwhile, maintains that most of the troubled assets came from its acquisition of Bear Stearns and Washington Mutual… (Read more.)
Wal-Mart Stores (NYSE:WMT) is ready to prematurely take the turkey out of the oven and get the retail battle started. According to MarketWatch, this Friday at 8 a.m., a full week before the shopping madness begins, Wal-Mart will cut prices on some of its most popular toys and electronics to match the best Black Friday offers from industry competitors. Wal-Mart executives made the announcement on Tuesday, challenging rivals to compete… (Read more.)
Exxon Mobil Corp. (NYSE:XOM) will divest its Hong Kong power division for $3.4 billion to CLP Holdings and state-owned China Southern Power Grid, which should help the oil major plow back money into its core operations. A number of integrated global oil firms are eager to control spending and give cash to investors via asset sales, share repurchases, or dividends as analysts worry over lagging stock prices. In the first nine months of 2013, Exxon alone shelled out $33 billion.
Follow Jacqueline on Twitter @Jacqui_WSCS
Don't Miss: JPMorgan Spends More Money to Close Old Wounds.