Just How Big is Apple's iTunes?
Apple's (NASDAQ:AAPL) iTunes may be just one aspect of the company's business, but it's increasingly becoming a very important one. The music marketplace generated total revenues of $13.5 billion last year, making it Apple's fourth-largest business, Asymco analyst Horace Dediu has calculated.
According to Dediu, iTunes has risen "steadily and rapidly" over recent quarters, is developing consistently across seasons, and has averaged growth of more than 30 percent over the last two years. The $13.5 billion in sales last year grew from $10.2 billion in 2011.
The ecosystem impact of the program has also been very strong, as it continues to add an increasingly larger portion of sales to Apple's overall results. In turn, the Mac and iPod lineups are contributing lesser and lesser. At the current rate, iTunes is set to become Apple's third-largest business sometime this year, Dediu adds.
Apple's Accessories line, which includes products such as the Apple TV set-top box, is also getting bigger. According to Dediu, while iTunes and Accessories depend on hardware sales to thrive, these ancillary businesses are accounting for a larger portion of the pie every quarter.
Incredibly, iTunes plus Accessories together now make up a bigger business in terms of revenue than the complete mobile phone business of any other phone vendor except Samsung (SSNLF.PK), the analyst adds.
While they were greater than the mobile phone revenues of Google's (NASDAQ:GOOG) Motorola, Sony (NYSE:SNE), LG, Research In Motion (NASDAQ:BBRY), and HTC every quarter in 2012, they surpassed Nokia (NYSE:NOK) in the fourth quarter.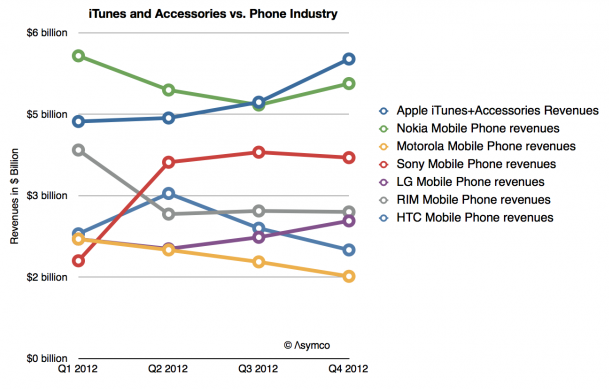 Don't Miss: Your Apple iWatch Rumor Roundup.