Live Apple Earnings: Results Good, but Forecast Not Great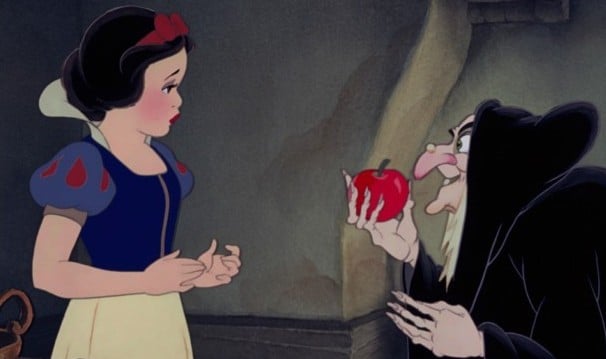 Apple (NASDAQ:AAPL) closed the regular session on Monday up 0.74 percent at $529.88 per share and fell as much as 2.2 percent in post-market trading after reporting fiscal fourth-quarter financial results.
Revenue grew 4.2 percent to $37.47 billion, beating the mean analyst estimate of $36.84 billion, and the company's own guidance of between $34 and $37 billion. Earnings fell 4.7 percent on the year to $8.26 per diluted share, also beating the mean analyst estimate of $7.93 per share. Gross margin shrank 3 percentage points on the year to 40 percent, but was consistent with guidance. International sales accounted for 60 percent of total revenue.
Apple provided fiscal first-quarter revenue guidance in a range between $55 and $58 billion, growth of between 1 and 6.8 percent. Gross margin is expected in a range between 36.5 and 37.5, down from 38.6 percent in the first-quarter of 2012.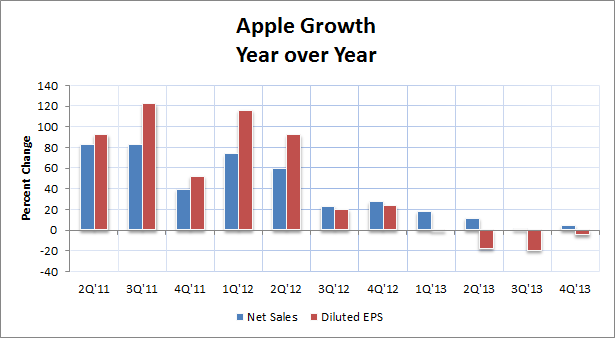 Apple reported 33.8 million iPhone sales, up about 25.6 percent on the year. iPad sales increased 0.7 percent to 14.1 million, and Mac sales declined 6.1 percent to 4.6 million.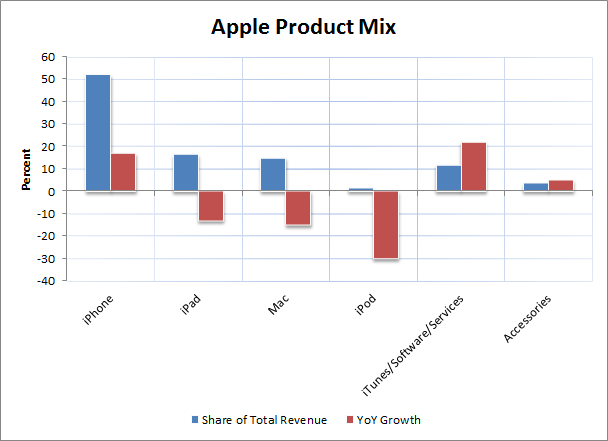 Apple reported enormous growth in Japan, where revenues climbed 41 percent on the year. Revenue grew 6 percent in China, which is good, but not great. Revenues climbed 1 percent in the Americas and were flat in Europe.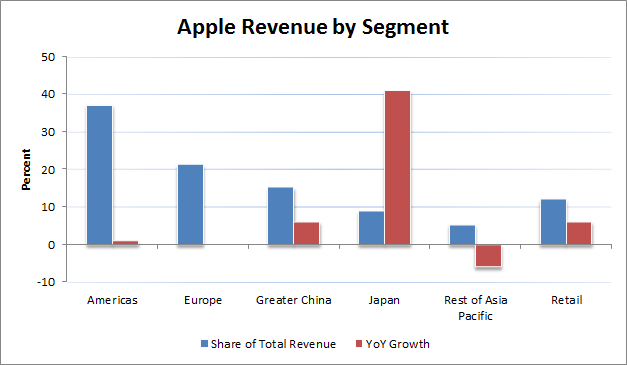 Here are some highlights from the earnings call:
[5:05] Tim Cook: Opening results (tl;dr) — 150 million iPhones, 71 million iPads, 16 million macs sold during the fiscal year, nearly 400 million visitors to each store, with almost $50 million in revenue per store for the year. Apple pulled in $171 billion in revenue and earned $37 billion over the course of the fiscal year. Apple is committed to providing attractive returns to shareholders, and that means dollars. The company has returned $37 billion over the past five quarters. Roll out of history's largest shareholder return program is going well!
Apple will wait until 2014 to reveal any changes to its shareholder return program (sorry, Icahn).
"The smartphone category is expected to grow significantly over the next few years, from about 1 billion this year, to over 1.7 billion in 2017. Tablets are growing even faster, from 225 million this year to over 400 million in 2017."
[5:10] Peter Oppenheimer: Oppenheimer goes over the fiscal results reviewed above. As usual, the CFO highlights two primary things: one, users of Apple products are more satisfied than those who use other devices, and they use their devices more; two, companies are using Apple products more and more. Or to put it another way: "Our products are better than everyone else's, and more people are realizing it."
Google (NASDAQ:GOOG) and Samsung (SSNLF.PK) would disagree, no doubt.
Oppenheimer is really selling how much corporations are using Apple products, particularly the iPad and the iPhone. Natural lateral? Education. "In the UK, the number of iPads sold to K-12 schools nearly doubled within the year… here in the U.S., schools continue to roll out large iPad initiatives."
Large iPad sales to and use by corporations and businesses, but iPad sales still pretty sluggish on the year (about 1 percent to 14.1 million). iPad sales growth is going to have to pick up if Apple is going to convince anybody that the device is really going to be a revenue stream anything like the iPhone.
Oppenheimer moves on to Mac sales, which were stronger than expected. He highlights the killer combination of upgrades that compels people to finally either buy in or upgrade: faster processors, a retina display, longer battery life — and most importantly — better price points and easier financing. Accessible financing may be an unsung hero of Mac sales gains. Lowering the barrier to entry for a purchase seems like a winning strategy for a product that bears a premium price tag.
[5:20] So what's interesting so far? All is pretty close to what was expected. Shares continued to decline in post-market trading as Cook and Oppenheimer fail to say anything that softens the "blow" of the underwhelming outlook. Investors appear as if they are still expecting Apple to do what it did up until fiscal 2012 — smash expectations at every turn, but that does not appear to be the Apple of today.
Q&A follows.
(Everything paraphrased.)
Morgan Stanley: I'm a little surprised your margin guidance isn't a little better. Can you walk through some of the margin headwinds?
Oppenheimer: We're pleased to be guiding margins about flat sequentially given all the new quarters. We expect margins to benefit from increased revenue, but offset by higher deferred revenue related to software… we expect the sequential increase in our deferral,which is not only revenue but margin as well, to be about $900 million well. Second will be higher cost structure and lower pricing. Third will be currency effects from the yen.
Morgan Stanley: It seems like investors are glancing over some of the new tech.
Cook: Everything you mentioned is front end of a long road map. We have the first 64 bit smartphone, and this is our first use of the fingerprint sensor. If you used it so far, you know it's pretty profound from a security point of view, and to purchase apps or movies… We sold a record number of iPhones, though, so we're off to a great start.
Q: There's some debate over the price point of the iPhone 5C.
Cook: We're selling the iPhone 4S as our entry office, the iPhone 5C as a mid-tier offer, and then of course the iPhone 5S. Our goal is overall to have growth for total iPhone, but within that we want to have each of those categories grow compared to what we were doing previously. If you look at the total offering that we're doing at all the price point tiers, we'd like to grow in each one of those. We're really pleased that we did that. That's how we measure success. The most important thing for us is to make a great product… The 5C was never meant to be an entry phone. Our entry iPhone is the 4S.
Bernstein: About new product categories: you said that consumers and investors should expect new products, including new categories, in the second half of this year and the first part of 2014. Can you reiterate on that?
Cook: I've said you'd see some exciting new products from us in Fall of this year and into 2014. In terms of new product categories, specifically, if you look at the skills that Apple has… these set of things are very unique, I think no one has skills like this. We obviously believe that we can use our skills to build other great products that are in a category that we do not participate in today.
Bernstein: Follow up on pricing. Last quarter you spoke about elasticity on the iPhone 4. You have lowered the price in many emerging markets, and yet when the new products came out, the 4S was at a higher price than the 4 had been in the previous quarter. If anything, one of the common themes of the last call was a desire to embrace the elasticity, but the price point seems higher than before. I'm wondering how we should think about what lessons you've learned from the iPhone 4. How do you continue to address the lower-price segment?
Cook: What we did with the line up this time… the 4S is replacing the 4. In the U.S., the 4S is now free, the 4 previously was free. If you translate that out of the U.S., it depends on what's happening cyclically. But generally, we see the 4S as our entry iPhone. We clearly understand that there is elasticity in that market, and we'll move accordingly.
Barclays: On China:  You grew 6 percent, congrats! What happened? Is it accelerating? How can you expand?
Cook: We had a pretty good quarter in China, we obviously want to do better. If you look at the quarter, we grew by 6 percent (on the year). Supply constraints on the 5S hurt. We're building our relationships with the carriers and the government. For the full year, the greater China region generation over $27 billion, up 14 percent on the year. We have a reasonable sized business there. The iPad launched late in China.
Munster: How do you think about the iPad growth rate? Is there any difference between how often people upgrade their iPad versus their iPhone?
Cook: We continue to view the tablet market as huge. We are not solely focused on unit share. We are focused on usage and customer satisfaction. We do believe that the announcement last week was our largest iPad announcement ever. We do believe we are going to grow year over year… We did feel that we wanted to reduce the price of the iPad mini, so we did that…. It's an incredible value to get a hold of the ecosystem. The Air is an incredible product, the best one we've ever done. I think it's going to be an iPad Christmas. We'll report the numbers back to you in January how we did, but we're pretty confident.
Q: Can you talk about your decision to offer the Mac OS for free? How are you thinking about it in light of the competition?
Cook: Our primary purpose to do it was we wanted to make it part of owning an Apple device. We wanted all of our customers to have access to our latest software so they would have access to our latest features, so we decided to take a bold move to making it free. We know some people charge, but we want to make it part of the experience. I think it's just another reason why everyone should by Mac.
Q: On education… I'm curious what your thoughts are with regards to Chromebook, Google Apps, any sort of foothold Google is taking in education. How do you view the competition? How do you position your product versus low-priced?
Cook: We had our best education quarter ever. We're up on the year, but you know that the PC market was down on the year. So we feel like we're doing great on both the iPad and the Mac space. We do see Chromebooks in some places, but the vast majority of people are buying PCs slash Macs and/or iPads. Our share of tablets in education is 94 percent. It's sort of unheard of. I've never seen a market share that high before.
UBS: Can you talk about supply side? I'm curious if you're going to be able to meet holiday demand.
Cook: In terms of supply iPhone 5S ended the quarter with a significant backlog, we still have a significant backlog, but our supply is building and we are confident of our ability to keep ramping. iPad mini with retina will ship later in November, but you really don't know the demand until you start shipping. But I think we'll do fairly well with the iPad. We feel like it will be a great holiday season.