Mac Pro to Hit Shelves Thursday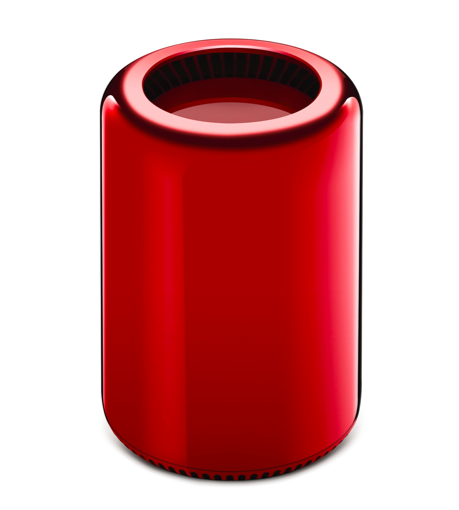 Apple's (NASDAQ:AAPL) long-awaited Mac Pro will be available for order beginning Thursday, Forbes has discovered.
The desktop unit, around which buzz has been building for months, will be ready for purchase starting Thursday, according to a tweet from an Apple executive. The computer is the latest top-of-the-line model in desktop computing, representing the quality and style that have become closely associated with Apple's products. Beware, though, that it also comes with an Apple-size price tag: The Mac Pro starts at $2,999.
The device itself is rather odd-looking, standing at less than a foot tall and shaped like a cylinder. Descriptions from those who have gotten the chance to interact with the Mac Pro have described it as resembling a piece of alien technology or as coming straight from the set of the latest science fiction movie.
Don't be fooled into thinking its strange shape is indicative of a lack of capabilities, though. The basic model is equipped with a quad-core Xeon E5 processor from Intel (NASDAQ:INTL), dual AMD (NYSE:AMD) FirePro graphics processors, 12 gigabytes of memory, and 256 gigabytes of storage space. It is also capable of handling several different displays at once, be they 4K or Thunderbolt displays, according to ABC News.
Assembling your home computer with the Mac Pro isn't a cheap matter. Besides the minimum just-shy-of $3,000 price for the basic model, there are plenty of ways for the machine to get pricier, with the 6-core processor adding on an extra $1,000 and additional charges being accrued for a 12-core processor, 64 gigabytes of memory, or a terabyte of storage space. In addition, the computer doesn't come with a monitor or a keyboard, so all of that will cost you extra. If you want to take advantage of the Mac Pro's features with quality technology all around, it isn't hard to imagine a desktop that costs about $5,000 to assemble in total.
One draw that Apple has been using in its marketing strategy for the Mac Pro is the fact that the device is manufactured entirely in the United States. The final assembly is conducted in Texas, while components for the computer are manufactured in Illinois and Florida. Even the equipment used in the process comes from America, with Michigan and Kentucky providing the lion's share.
As part of the company's campaign, Apple put together a short, two-minute video– that shows the Mac Pro being assembled. It's fun to watch, and it's a great hint of what's hitting the shelves come Thursday. If you have the money, the Mac Pro could be the perfect gift for that very special someone this holiday season.
Don't Miss: Apple's New Computer Needs No Desk.