Macy's Drags Retail Down, Apple Hits $500: Market Recap
U.S. stocks fell today upon disappointing earnings results from Macy's Inc. (NYSE:M), which led to a forecast that retail business will struggle in the coming quarter. Retailers in the S&P 500 dropped 1.5 percent in response to Macy's weak third-quarter forecasts. In addition, many economists are predicting that the Federal Reserve will begin paring stimulus next month.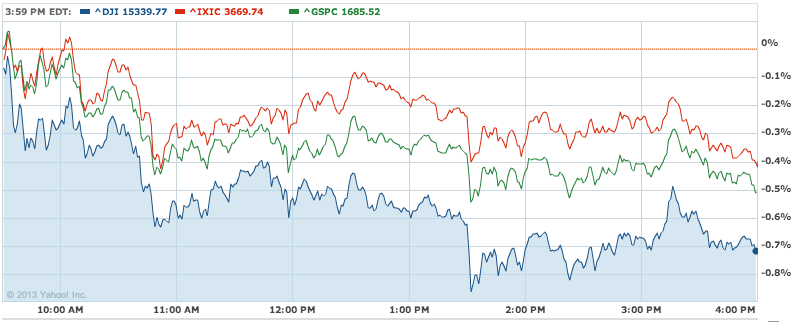 Gold: +1.07% to $1,334.60 per ounce Oil: +0.01% to $106.84 per barrel U.S. 10-Year: -0.11 to 2.712%
Is Low Inflation Catching Up with the Fed?: When Federal Reserve Chairman Ben Bernanke testified before Congress in May, he gave what could be interpreted as a mixed diagnosis of the health of the U.S. economy. While economic growth during the first and second quarter continued at a moderate rate, the trajectory of key indicators like unemployment and inflation are by no means clear.
EU: Leaving Recession and Finding Growth are Not Quite the Same: The European Union may have officially excited recession, but that really doesn't make a whole lot of difference to the millions of people without jobs — and as EU Economic Affairs Commissioner Olli Rehn said following the news that, "There is still a very long way to go before we reach our ultimate goal of sustainable growth model that delivers more jobs."
Top 4 Reasons Family Homebuyers 'Pull the Trigger': PulteGroup (NYSE:PHM), one of the largest home builders in the U.S., reported in its latest Home Index Survey that improving housing market conditions have convinced many "move up" family home buyers that now — or the near future — is the right time to purchase a new home. The firm found that 43 percent of current homeowners surveyed plan to purchase a new home home in the next 5 years.
Here's your cheat sheet to today's top stocks stories: 
Apple's (NASDAQ:AAPL) doing well in the wake of comments from Carl Icahn that the activist investor had taken a "large position" in the world's largest publicly traded company, whose stock he referred to as "undervalued." Apple shares reached $500 during trading today then dropped slightly below that figure to end the day, a level they have not traded at since January 23.
Macy's Inc. (NYSE:M), the world's second-largest department store chain reported fiscal second-quarter earnings that missed analyst expectations and lowered its forecast for earnings this year, in part because it had been forced reduced its prices to attract more shoppers.
Boeing (NYSE:BA) just doesn't seem to be able to keep its troubled 787 Dreamliner out of the headlines. ANA Holdings (ALNPY.PK) — the operator of the largest fleet of 787 aircraft — found wiring defects in three planes on Wednesday, Bloomberg reports. Officials discovered the wiring issue in the fire suppression system of an All Nippon Airways-operated 787 Dreamliner waiting to depart Tokyo's Haneda airport.
Zynga's (NASDAQ:ZNGA) new Chief Executive Officer Don Mattrick announced a big shake-up at the struggling online game creator via an email sent to employees on Tuesday, a restructuring Mattrick sees as "taking layers out of the executive rank to get senior leaders closer to important product initiatives."
BlackBerry's (NASDAQ:BBRY) future is uncertain after the company announced it was considering the possibility of going private on Monday. But that hasn't stopped analysts from speculating what companies could be interested in taking BlackBerry private — and Fairfax Financial Holdings is considered a front-runner by many.
Cree Inc. (NASDAQ:CREE) shares fell 22 percent in trading today after a disappointing earnings report and growth forecasts that were mostly flat for the maker of LED lights. The company met analyst estimates on earnings per share, which grew 52 percent year over year to 38 cents, but fell short of expectations for revenue. Cree reported a revenue of $375 million, well short of analyst forecasts that had placed the figure around $377 million.
Follow Jacqueline on Twitter @Jacqui_WSCS