Markets Rise on Summers Exit, More Dreamliner Drama for Boeing: Market Recap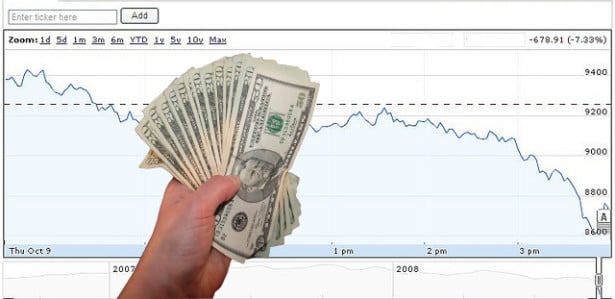 U.S. stocks rose today upon news that Lawrence Summers is no longer pursuing Ben Bernanke's position as Chairman of the Federal Reserve and a deal with Syria over its use of chemical weapons was reached. The Fed begins a two-day meeting tomorrow to determine whether the U.S. economy is healthy enough to begin curbing stimulus. Former U.S. Treasury Secretary Janet Yellen was Summer's top rival for the Chairman position.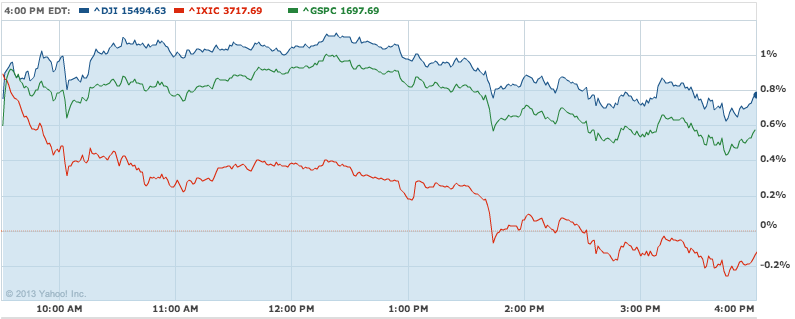 Gold: +0.01% to $1,308.60 per ounce Oil: -1.75% to $106.32 per barrel U.S. 10-Year: -0.83 to 2.874%
Mr. Market Throws Summers a Farewell Party: Financial markets around the world seemed to welcome news that former U.S. Treasury Secretary Lawrence Summers has withdrawn his name for consideration to be the next Chairman of the Federal Reserve. The news broke on Sunday when a letter that Summers wrote to President Barack Obama announcing his desire to withdraw was published online.
Here Is the Agreement for Syria's Chemical Weapons: In an agreement between the U.S. and Russia, Syria must hand over a full list list of its chemical weapons stockpile within a week before destroying or removing all chemical weapons by mid-2014, BBC reports. If Syria does not adhere to these guidelines, a U.N. resolution backed by threat of sanctions or military force could follow.
Here's Why It's Time for Manufacturing to Look Up: Overall industrial production increased 0.4 percent on the month in August, according to the U.S. Federal Reserve. The data narrowly missed expectations for a 0.5 percent increase and are slightly underwhelming after the zero percent growth experienced in July. Industrial production growth has struggled to remain positive over the past 12 months on the back of a fickle recovery in manufacturing and ongoing economic headwinds.
Here's your cheat sheet to today's top stocks stories:
BlackBerry (NASDAQ:BBRY) sale drama continues, and this time, it looks like potential bidders may be interested in divvying up the company rather than signing off on the whole thing. According to a Reuters report Friday, a handful of private equity firms are interested in dividing up BlackBerry, buying certain divisions of the company — but not all of them.
Boeing (NYSE:BA) is experiencing more Dreamliner drama. This time, technical problems are plaguing the recently acquired, two-aircraft Dreamliner fleet of Norwegian Air Shuttle, the third-largest budget airline in Europe. At the beginning of the month, a brake indicator issue grounded one of the 787 aircrafts at Arlanda Airport north of Stockholm, Sweden.
Dish Network Corp. (NASDAQ:DISH), working with the Federal Communications Commission, has made some changes to its wireless spectrum that increased the value of the spectrum by $1 billion, according to analysts cited by the Wall Street Journal. Dish has been steadily acquiring wireless spectrum for several years as CEO Charlie Ergen seeks to take the company into the wireless phone industry.
Wal-Mart (NYSE:WMT) typically features cheaper prices than its rivals on many products, but the retail giant's prices for the latest iPhone models has some industry watchers scratching their heads. Walmart is selling the 16GB iPhone 5C for $79 and the 16GB iPhone 5S for $189 if customers sign-up for a two-year service contract, reports SFGate.
Apple's (NASDAQ:AAPL) stock recently crossed a technical threshold that may indicate the Cupertino-based company's shares will soon rise in value. As noted by MarketWatch, Apple's stock hit the so-called "golden cross" last week when the 50-day moving average broke above the 200-day moving average.
Microsoft (NASDAQ:MSFT) announced earlier this month that it was purchasing the Devices and Services division of Nokia (NYSE:NOK), which has built its phones on the Windows platform since 2011. Nokia had the option to exit that partnership at the end of 2014, and a new report from The New York Times reveals that Nokia was building phones running on Google's (NASDAQ:GOOG) Android operating system.
Follow Jacqueline on Twitter @Jacqui_WSCS
Don't Miss: More Dreamliner Problems Don't Concern Boeing's Customers.