Maynard Um: Apple Will Benefit from Strong Gross Margins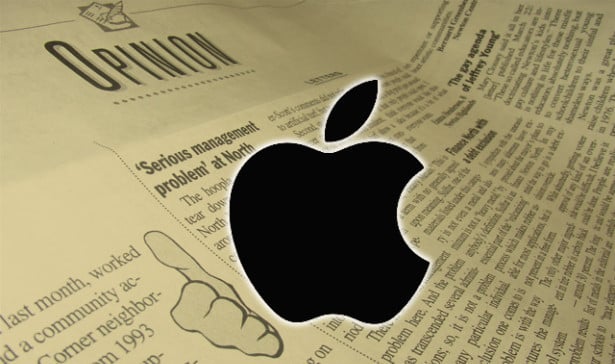 Maynard Um, a senior analyst from Wells Fargo Securities, wrote a note to investors this week following Apple's (NASDAQ:AAPL) fiscal fourth-quarter earnings release Monday, and reiterated his firm's Outperform rating. The analyst went over "The Good," "The Bad," and "The Bottom Line," of Apple's earnings with investors Tuesday and raised his fiscal first-quarter earnings per share estimate from $13.55 to $14.62, also adjusting his overall 2014 ESP from $43.42 to $44.72.
Um first summarized Apple's fourth-quarter figures and highlighted that its revenues and adjusted earnings per share hit above analyst expectations, with the tech giant registering a revenue figure of $36.5 billion and a non GAAP EPS of $8.26. Wells Fargo forecasted a $36.8-billion revenue and a $7.96 non GAAP EPS figure and were pleased with Apple's results. Um noted that the company's gross margins of 37 percent were also better than estimates, and cited strong iPhone demand in developing markets and the U.S for the attractive figure.
As for Apple's 2014 first quarter forecast, many analysts following the earnings call yesterday highlighted the company's conservative outlook, and Um did the same. He noted that Apple expects first quarter revenues to hit between $55 and 58 billion, while Wells Fargo previously predicted the higher end $58-billion figure. Apple also predicts a gross margin of 36.5-37.5 percent, an operating expense of $4.4-4.5 billion, and a tax rate of 26.25 percent, putting an EPS in the range of $12.98-14.27. Wells Fargo had an EPS estimate of $13.55.
Regarding "The Good," Um recognized the new iPhones' impressive demand across all markets. While some geographies have taken more of an interest in the iPhone 5C, others have shown their loyalty the iPhone 5S, and the increased demand results in an attractive revenue point. Apple also registered strong iPad demand from developing markets and the North American education vertical.
The Cupertino, California-based company pushed its increased corporate appeal in its earnings call Monday, and noted that, "In the UK, the number of iPads sold to K-12 schools nearly doubled within the year. Here in the U.S., schools continue to roll out large iPad initiatives." In addition, the analyst highlighted Apple's iTunes revenue 15-percent increase year over year — thanks to its new iTunes Radio — and pulled out the cumulative app downloads figure of 60 billion.
Not even China could get Apple down, despite it being a tough market for the tech giant to crack, and the company registered a strong performance there. Lastly, Um noted Apple's $900MM of incremental margin benefit that the company expects for coming quarters. Product deferrals help boost that figure, and the analyst recognized the buffer for future cycles.
As for the bad, Um warned that Apple could face margin pressures in the December quarter from the new higher-cost iPads and MacBooks, and retail sales are also expected to be down 3 percent year over year. In addition, currency issues related to the Japanese Yen and the Aussie Dollar are expected to continue.
It is also still unclear what Apple's gameplan is for the wireless operator expansion strategy, and there is continuing anxiety over supply shortages for the new iPad.
Bottom line, Um is maintaining Wells Fargo's initial bullish thesis for the December quarter and expects gross margin improvement of 36.5 to 37.5 percent. The analyst also believes that the forecast could be conservative considering the iPhone's previous "s" cycles, but at least expects the March quarter to improve. Um concluded, "We believe Apple's current product cycles present a strong cyclical opportunity to benefit not only from unit demand but, more importantly, gross margin benefits. We reiterate our Outperform rating."
Don't Miss: Is This Why Apple Didn't Make a Gold iPad?