McDonald's Reports Slim Earnings, Yahoo Gets Famed Journalist: Market Recap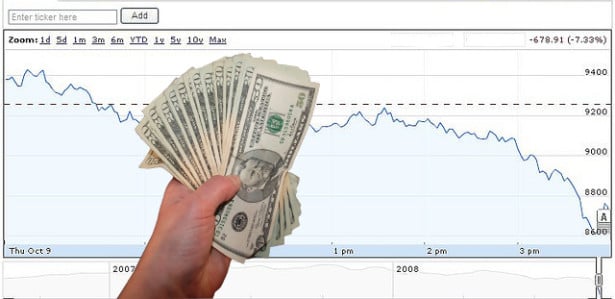 U.S. stocks remained steady during trading on Monday as investors wait for data from the Labor Department that was delayed by the shutdown to be released tomorrow. The jobless claims report was supposed to be released on October 4, but the shutdown that ended on October 17 left economists in the dark about the state of the labor market. Investors are also weighing third quarter earnings reports.

Gold: +0.07% to $1,315.50 per ounce Oil: -1.48% to $99.61 per barrel U.S. 10-Year: +0.77 to 2.609%
What Are the Top 5 Factors in Dow Jones Rise? Compared to last year around this time, the Dow Jones Industrial, DJI, is sitting pretty for all those brokers on Wall Street, up at $15,399.65 from 2012′s high of $13,368.55 — according to Yahoo Finance – and still rising. So what are the major factors behind what continues to look like spectacular tricks from the Industrial Average?

4 Key Economic Drivers That the Shutdown Slowed Down: Counting the casualties from October's Washington political battle could take months. Beth Ann Bovino, an economist at Standard & Poor's, estimates that the shutdown cost the U.S. economy some $24 billion and cut her forecast for fourth-quarter gross domestic growth from 3 percent to 2.4 percent. Doug Handler, chief economist at IHS Global Insight, followed suit, pinning most of the overall reduction on a shutdown-induced decrease in government and consumer spending.

Will Emerging Markets Falter Amid Investor Concerns? Investors are beginning to reassess their evaluations about various emerging markets as the global economic climate starts to solidify, Bloomberg reports. Many leaders of emerging countries celebrated the U.S. Federal Reserve's decision to delay the tapering of quantitative easing at the Federal Open Market Committee's September 17-18 meeting. As long as quantitative easing is in place, dollars are relatively cheap, making investment in developing nations an attractive option.
Here's your cheat sheet to today's top stocks stories:
McDonald's (NYSE:MCD), the world's largest hamburger restaurant, had a swing and miss with reporting earnings on Monday morning after the fast food franchiser reported third-quarter results that failed in impress investors. McDonald's revenues increased 2 percent on the year to $7.32 billion, falling just shy of the average analyst estimate of $7.34 billion. Global comparable store sales increased 0.9 percent. McDonald's earnings increased 6 percent on the year to $1.52 per diluted share, actually edging out the average analyst estimate of $1.51 per share.
JPMorgan Chase & Co. (NYSE:JPM), America's largest bank by assets, shares closed down slightly on Monday after news broke that JPMorgan faces a tentative $13 billion settlement with the Department of Justice. Sources told Bloomberg that JPMorgan Chairman and CEO Jamie Dimon negotiated the terms of the deal with U.S. Attorney General Eric Holder after markets closed on Friday evening.

Yahoo (NASDAQ:YHOO) CEO Marissa Mayer and beloved New York Times tech columnist David Pogue are teaming up on a new Yahoo consumer tech website, the two announced on Monday. Pogue has written for the New York Times for 13 years, makes a series of humorous tech videos, and has contributed to CBS News Sunday Morning and Scientific American, and said in a blog post that he's excited for new opportunities at Yahoo.
Apple Inc.'s (NASDAQ:AAPL) next-generation iPad mini with Retina display is continuing to draw rumors only one day before the Cupertino, California-based company's media event is scheduled to take place in San Francisco. The latest rumors come courtesy of the Wall Street Journal's unnamed supply chain sources. According to the Journal, Apple will unveil a new iPad mini with Retina display at Tuesday's media event. Previous rumors had suggested that Apple would delay the debut of the iPad mini with Retina display due to production constraints.
Nokia's (NYSE:NOK) Lumia smartphone sales have increased both from the previous quarter and year over year for the fourth consecutive quarter, people familiar with the matter have told the Wall Street Journal as Nokia prepares to unveil its new line of devices at a media event in Dubai on Tuesday. Sources told the Journal that Nokia sold at least 8 million Lumia smartphones in the quarter that ended in September, up from 7.4 million sold in the second quarter and over double the amount sold in the third quarter of last year.
Netflix (NASDAQ:NFLX) shares are up in advance of reporting third quarter earnings as the streaming service is reportedly set to announce that it has surpassed HBO for paid subscribers, with Needham & Co. estimating that the company hit the 30 million mark during September. Time Warner's (NYSE:TWX) HBO has roughly 28.7 million, researcher SNL Kagan projects. An average estimate from Bloomberg puts Netflix's subscriber base at 31 million for September, including free trials.
Follow Jacqueline on Twitter @Jacqui_WSCS
Don't Miss: Analyst: This Is Apple's 'Most Important iPad Refresh' Since 2010.